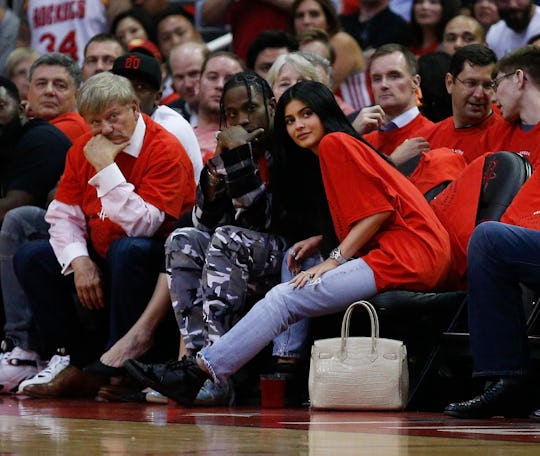 Bob Levey/Getty Images Sport/Getty Images
Travis Scott Was Asked About Stormi For The First Time & His Answer Was Simply Sweet
It's been two weeks since Kylie Jenner confirmed that those pregnancy rumors were indeed true and that she'd welcomed a baby girl named Stormi Webster with her boyfriend, rapper Travis Scott. On Super Bowl Sunday, the new mom shared an 11-minute video montage, documenting her pregnancy. Days later she shared the first official photo of her daughter on Instagram, which revealed her name. But the new dad has remained somewhat silent since his daughter's birth, until today when Travis Scott was asked about Stormi for the first time, according to TMZ. And his answer was simple and short, but oh so sweet.
The 25-year-old rapper hasn't been all that vocal about his personal life in the past, often posting cryptic tweets instead. So when paparazzi caught him leaving an event on Sunday, they probably weren't expecting him to respond to them. But, according to TMZ, when one person asked him "How's the baby?" — obviously referring to little Stormi — he simply responded, "she's beautiful."
"She's beautiful" — just two words, but they were incredibly sweet and so very true. While that might not seem like much coming from a new dad, Scott certainly doesn't have to answer a bunch of paparazzi grilling him about his new baby girl. But he did and that simple, low-key type of answer just seems to be his style.
Aside from Sunday's news, Scott has not said all that much about fatherhood, his new daughter, or his relationship with Jenner. So his two quick words to paparazzi were indeed something. After all, when Jenner's pregnancy was still just a rumor, Billboard asked Scott about everything and he shut it down right quick when he said, "I don't want to talk about that. They're just guesses. Let them keep fishing."
But when he's not downright answering a photographer like he did on Sunday or deflecting conversations, it seems that the Houston native likes to stick to his creative roots when it comes to expressing himself. For example, almost as soon as Jenner's pregnancy was announced back in September of last year, fans flocked to some of Scott's song lyrics that might have been about Jenner. Specifically, as Harper's Bazaar reported, fans were practically convinced that Scott's rap verse in SZA's "Love Galore," was somewhat of a foreshadowing of Jenner getting pregnant. The explicit verse (which I won't type out for you, but you can read it here, courtesy of Harper's Bazaar), basically paints a picture of a man in love wanting to start a family with the woman he's with, although it's a lot more graphic than that.
Now, "Love Galore" came out in April of 2017, which was well before Jenner's pregnancy was even announced. So really, it's highly unlikely that Scott was already announcing that Jenner was pregnant way back then, but of course, he could have merely been hinting at the fact that he wanted to one day start a family with his girlfriend. But whatever the true meaning of the song may have been, "Love Galore," certainly seems to provide a little glimpse into how Scott feels about his lady.
But that's not all. Scott's song, "Butterfly Effect," has also been widely speculated to be about his relationship with Jenner.
After all, Scott posted a (albeit blurry) photo of Jenner getting on a plane with the caption "Butterfly Effect" back in May 2017, shortly after the song was released. So really, it seems pretty obvious that the song is about their love. And with the lyrics, it certainly seems like the two have been head over heels for a while:
She caught the waves just thumbin' through my braids / Heatin' up, baby, I'm just heatin' up / Need ya love, not a need it is a must / Feelin' stuck, you know how to keep me up / Icy love, icy like a hockey puck
And as far as little Stormi is concerned? When Jenner revealed the news on Feb. 4, Scott posted yet another cryptic tweet about the news, although it was fairly obvious what he was talking about given the circumstances. He tweeted his daughter's birth date, Feb. 1, 2018, along with with six simple words, "4 ever New rager in town."
As he learns and grows as a father, fans might get some more of these little glimpses into how he feels about his little girl and how he's adjusting to fatherhood in the future. For now, though, a simple and sweet "she's beautiful" will certainly suffice.
Check out Romper's new video series, Bearing The Motherload, where disagreeing parents from different sides of an issue sit down with a mediator and talk about how to support (and not judge) each other's parenting perspectives. New episodes air Mondays on Facebook.