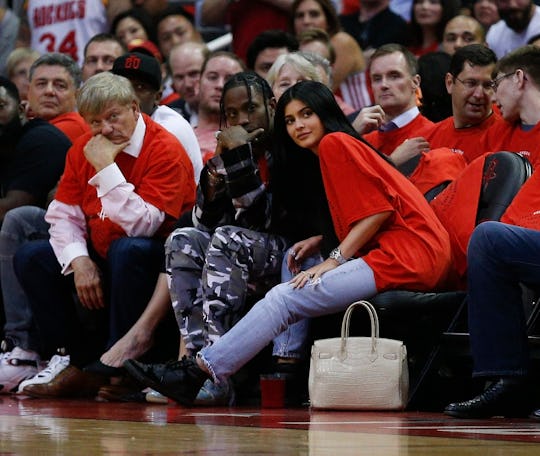 Bob Levey/Getty Images Sport/Getty Images
4 Times Travis Scott May Have *Hinted* At Kylie Jenner's Rumored Pregnancy On Twitter
It's been nearly three months since rumors exploded that Kylie Jenner and Travis Scott are reportedly expecting a baby together. And like anything that has to do with the Kardashian/Jenner empire, the news has dominated celebrity gossip sites and certain corners of the internet ever since. Fueling that fervent conversation, of course, is the fact that neither Jenner nor Scott has confirmed (or denied!) the rumored pregnancy. That leaves fans on high alert for clues — even searching for them where there may not be any. Such may be the case for anyone on high alert for any possible instance that Travis Scott might've *hinted* at Kylie's rumored pregnancy on Twitter.
To search social media for such "confirmation" is not exactly an out-of-left-field idea, though. After all, Jenner herself has been dropping "clues" about her reported pregnancy, such as the time she Instagrammed a pic of herself wearing tons of pink (rumor has it that she'll welcome a girl in January) and the time that she literally had some (cinnamon) buns in the oven in a Snapchat post, as People reported. Tidbits like that, along with the newest (and pretty convincing) fan theory that family matriarch Kris Jenner is going to use the annual Christmas card to officially announce Jenner's reported pregnancy as well as her sister Khloé Kardashian's, are incredibly tantalizing for impatient fans.
Chances are that all you dedicated Jenner stans have already combed through Scott's tweets in search of some intel. If not, allow me to do it for you.
The Big Reveal (Maybe)
The 25-year-old Scott has never directly referred to his girlfriend's rumored pregnancy on Twitter or any other public sphere. That said, this brief tweet from June 12 — which simply reads, "Legit happiest day of my life." — is the one that's most convincingly a reference to it. The rapper and Jenner have reportedly been dating since April, and anonymous sources started spilling about her reported pregnancy on Sept. 22. But the popular theory goes that Scott likely published this tweet on the day that he, as the rumored dad, learned the news.
And you know that? It just could be true. As Bustle's Allie Gemmill pointed out, he did not have any professional events, such as a concert, that day. And fans certainly thought so, too:
Kids On The Brain?
Just days after the "legit" best day of Scott's life — the day he may have found out he was about to become a first-time father — Scott tweeted a photo of himself holding a Fruit by the Foot fruit snack. Now, I don't know anything about Scott's dietary habits — maybe this is a normal dinner for him — but Fruit by the Foot is pretty undeniably kid food. Maybe he had kids on the brain?
Some Advice
Ditto this tweet. In it, Scott advised his followers never to lose their passports on a plane. That's solid advice, and was presumably the result of Scott's own recent experience. But there is one especially striking aspect of the tweet. Scott wrote "NEVER LOSE UR PASSPORT ON A PLANE KIDS" (emphasis all mine). Could it be just a tiny bit possible that Scott was maybe unconsciously gearing up to actually give similar dad advice to his own child(ren)?
Thankfulness
OK, so Travis Scott obviously has a lot of "blessings," as he put it in this July 14 tweet, in his life. He's a successful rapper who's collaborated with Kanye West, his 2016 album Birds in the Trap Sing McKnight debuted at No. 1 on the Billboard 200, and Complex declared that he was "dominating" 2017 back in May. But when he tweeted "Thank u god for the blessings u send me daily," he very well could have been thinking specifically of the "blessing" of a new baby on the way.
And as for the "Keep me wise and strong" part of the tweet? Well, that's pretty much the definition of a good dad, whether these rumors are true or not.
Check out Romper's new video series, Romper's Doula Diaries:
Watch full episodes of Romper's Doula Diaries on Facebook Watch.