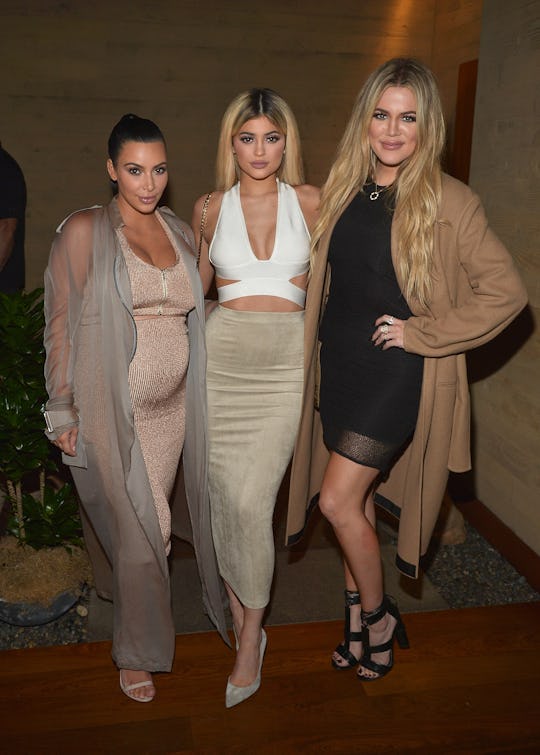 Charley Gallay/Getty Images Entertainment/Getty Images
Theories About Kim, Khloe, & Kylie's Due Dates Predict A Real Kardashian Baby Boom
So far, it looks like 2018 is shaping up to be the year of the Kardashian/Jenner baby — at least if you are a Kardashian or a Jenner, or a hardcore fan of the reality TV family. Because the end of 2017 has the celebrity gossip sites and Keeping Up with the Kardashians lovers buzzing with the news that sisters Kim Kardashian, Khloé Kardashian, and Kylie Jenner are all reportedly expecting babies early next year. Details about exactly when are unconfirmed — just like Khloé and Kylie's rumored pregnancies, actually — but these reports and theories about Kim, Khloé, and Kylie's due dates, if true, would mean that the famous family is about to get a lot bigger pretty much all at once.
On a recent episode of Keeping Up with the Kardashians, family matriarch Kris Jenner alluded to a "faucet of babies" in sharing that she was thankful for her grandchildren. Of course, there really is not shortage of little ones in the fam: oldest sister Kourtney Kardashian has three kids, lone son Rob Kardashian has a baby girl, and Kim Kardashian's baby-to-be will be her third with husband Kanye West. Still, the remarks raises the question of whether the "faucet" is, indeed, currently... active, and when exactly the three reported babies may, well, splash out of it and into the limelight.
Kim Kardashian
Kim Kardashian is the only one of the reportedly expecting sisters to have confirmed that she is, in fact, expecting. And she is also the only one who is not reportedly pregnant. Instead, she and West have hired a surrogate to carry their third baby, whom she inadvertently revealed to be a girl in a appearance on The Ellen DeGeneres Show earlier this month.
While the public has not caught wind of the surrogate's identity, we do have some indication of when the baby will be born, and it is so soon, Glamour reported: January 2018. And the magazine even went a bit further and theorized that the exact due date could be Jan. 7, after a short video from the recent baby shower showed 4-year-old North West, Kim's oldest, calling out "lucky number seven," likely as part of a shower game.
Well, who knows whether that could truly be the case, but it sure sounds about right. Initial (unconfirmed) reports that she and West had hired a surrogate began to emerge over the summer.
Khloé Kardashian
Unlike her older sister, Khloé Kardashian has not confirmed or denied the reports that she is expecting her first child with boyfriend Tristan Thompson. But that certainly has not stopped the rumors from flying. At the end of October, about a month after outlets began reporting that she was pregnant based on information from anonymous sources, it was time for the rumor mill to level up. At that time, "multiple sources exclusively" confirmed to Us Weekly that she was preparing to welcome a boy.
The magazine also reported that the Good American designer had visited Cedars-Sinai Medical Center in Los Angeles her 20-week checkup on Oct. 9. Using that intel, it's safe to estimate that her little boy could possibly have a March due date, should these rumors be true.
Kylie Jenner
At 20, Kylie Jenner is the baby of the family and she's reportedly expecting a baby around the same time as her significantly older sisters. And when news first broke that she and her boyfriend, rapper Travis Scott, were going to become first-time parents at the end of September, People magazine reported that both she and Khloé were about four months along. Here's what an unnamed "insider" had to say at the time:
Kylie loves how close-knit her family is and is thrilled to bring that to her own family. She feels more prepared than ever, especially since she will be sharing this journey with Khloé. They are looking at it like a unifying experience for them as sisters.
Now, the general consensus is that Jenner is due slightly before Khloé and shortly after Kim's surrogate. Which means that, when she baby — reportedly a girl — is born (probably in February), she'll have built-in besties in her cousins, again, should these reports turn out to be valid.
So, in summary, it's babies galore in Calabasas. Did you keep up with all that?
Check out Romper's new video series, Romper's Doula Diaries:
Watch full episodes of Romper's Doula Diaries on Facebook Watch.