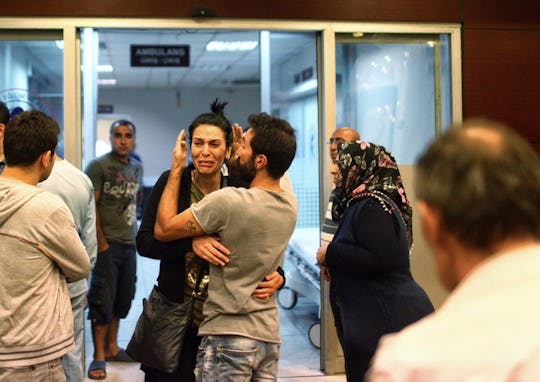 Defne Karadeniz/Getty Images News/Getty Images
Tributes To The Istanbul Victims Show The Devastating Outcome Of The Attack
Tragedy struck Istanbul on Tuesday when suicide bombers carried out a deadly attack at the Istanbul Ataturk Airport, killing at least 41 people, a death toll reported as of Wednesday morning. The horrific attack was reported to have left at least 230 people injured, and tributes to the Istanbul victims show how the attacks have unspeakably affected the victims' families and many mourning around the world.
According to a Reuters report, the three suicide bombers first opened fire at the Istanbul airport before detonating themselves in Europe's third-busiest airport. "This attack, targeting innocent people is a vile, planned terrorist act," Prime Minister Binali Yildirim said, according to Reuters. "There is initial evidence that each of the three suicide bombers blew themselves up after opening fire."
Istanbul's governor, Vasip Sahin, released a statement sharing more information on the victims who lost their lives, NBC News reported. Sahin noted that at least 10 of the 41 people killed were foreigners and three were dual nationals.
In an interview with Reuters, a Swiss traveler who had a layover in Istanbul, described the tragic scene at the airport after the coordinated deadly attack:
There were little babies crying, people shouting, broken glass and blood all over the floor. It was very crowded, there was chaos. It was traumatic.
Many have taken to social media to honor the victims who lost their lives, and express solidarity with the people of Istanbul.
One Facebook user poignantly noted that the United States, too, has had many American-born terrorists:
Our beautiful Tori was at this airport just one year ago. As word of this massacre began to fill our media, notifications of family and friends telling us they were safe began to reach us. That made it real, bringing it home. People were just living their lives, doing every day things. This could happen anywhere by any group of radical, misled, filled with hate humans. The survivors will live with the scars and disabilities forever. Before we publicly show our bigotry, let's remember that our country has produced killers no different than these killers. Oklahoma City (1985), Sandy Hook (2012), Bath Township School (1927), Columbine (1999), Jonesboro, Arkansas (1998) ......... the list could be go on and on. Hate is not new. Killing is not new.
Another user talked about the need to expand love, "...We were just talking about how we want to travel to Turkey," she wrote. "Terrorists want to keep us afraid, divided, and dead. We have to expand love... somehow."
According to The New York Times, the victims include an airport worker who was getting married in 10 days, a Turkish couple who died together, a Turkish translator who was escorting tourists back to the airport, a number of taxi drivers, and a customs officer — innocent people with real lives, families, and loved ones. According to Turkish officials, 23 of the victims were from Turkey, five were Saudis, two Iraqis, and there was one citizen killed from each of the following countries: Iran, Jordan, Tunisia, Ukraine, and Uzbekistan, the Times reported. The Times also reported that a majority of the victims appeared to be Muslims, either from Turkey or other Muslim countries.
Turkey is a Muslim country, with approximately 99 percent of the population reported to be officially Muslim, according to data by the U.S. Department of State. As The New York Times noted, the recent attack is another somber reminder that Muslims are more likely to be victims of terrorist attacks by terrorist groups like ISIS than non-Muslims – despite the anti-Muslim-fear-mongering rhetoric spread in countries in the Western world, like the United States (notably the country's presumptive Republican presidential nominee).
A Facebook user directly called out the hypocrisy in anti-Muslim rhetoric:
Everytime something crazy happens in the west, people expect muslims to explain themselves, and admit that their culture or religion is the root of the problem and should apologise for it... WHY?... dont they know that we are also victims of this crazy group? dont they know that everyday-muslims are now the main target?...
World leaders have publicly condemned the deadly attack and have expressed their support for the victims and their families. As Istanbul recovers from the coordinated deadly attack, it's important to remember the victims and their families, as more information about who they are is revealed.