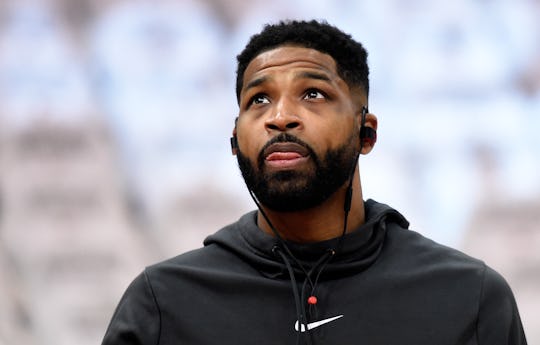 Jason Miller/Getty Images Sport/Getty Images
Tristan Thompson's First Instagram Post About His Kids Since Baby True's Birth Has Riled Up Some Fans
It's been just over two months since Tristan Thompson and Khloé Kardashian welcomed their first daughter, True Thompson, on April 12. Given the fanfare of drama that surrounded Kardashian's delivery (for the uninitiated: TMZ and the Daily Mail released videos purporting to show Thompson allegedly with other women days before Kardashian gave birth; neither Thompson or Kardashian's reps have responded to Romper's request for comment) it made sense that Thompson was keeping a low profile on social media, particularly when it came to talking about his new baby. But on Father's Day, Tristan Thompson's shared first Instagram post about his kids since True's birth and it seems to have left some fans with mixed feelings.
Given that Thompson and Kardashian live such public lives, it's expected that photos and details about their children will be safeguarded (fans didn't even see the first photo of True until a month after she was born). However, Thompson had yet to acknowledge True's birth to his fans online until his Sunday post, presumably in honor of Father's Day.
"My Prince and Princess 👸," he captioned a photo of two large gold name plates, reading "True" and "Prince," who is his son with ex-girlfriend Jordan Craig, according to Entertainment Tonight. "I love you guys so much!!!"
Fans immediately began responding to the post, and it's safe to say that there were a wide range of reactions. Some were unhappy that it was the first time he was acknowledging his kids since True's birth — though he had been active in posting about basketball games — while others still seem to be harboring resentment over what allegedly went down with Kardashian. "Woooooowwww he finally acknowledged his kids," one commenter wrote. "Glad you finally recognized True and Prince. It's been 3 months," another chimed in.
However, not everyone was in agreement that Thompson deserved all of the snide commentary that he was receiving. One fan actually commended him for trying to be a good dad, writing: "Ignore these irrelevant people. We know your trying to become a better person."
Interestingly, the post coincided not only with Father's Day, but also Kardashian's long awaited return to L.A. with baby True. People reported that she posted photos of the baby in a car seat holding her father's hand, though it wasn't clear whether or not Thompson had actually made the trip back to California with them. Kardashian gave birth to True in Cleveland, where Thompson is living while under contract with the Cleveland Cavaliers, according to Page Six, which he signed back in 2015. (It's a five-year contract, so it will be up in 2020.)
Despite everything that happened between Thompson and Kardashian in the past few months, various reports have made it clear that Kardashian was decidedly focused on the well-being of her child and adjusting to new motherhood, though fans wondered when she'd officially make the move back to her hometown. Kardashian's mom, Kris Jenner, told Us Weekly at the beginning of the month that the move was being planned: "She'll be home soon, so it's really great," she said. When asked if the move would be permanent, according to Us Weekly, she affirmed: "I think so! Yes!"
With Kardashian back in L.A. and Thompson's whereabouts unconfirmed, there's a lot that remains to be seen, not only regarding the couple's living situation, but how their relationship will be unfolding in the coming months and years. But what fans can infer so far is that it's clear both of them are doing their best to be parents to True and, in Thompson's case, Prince as well. Regardless of what's happened in the past, Thompson making an effort to acknowledge his children on social media is an important step in the right direction, and for that he should be given credit.