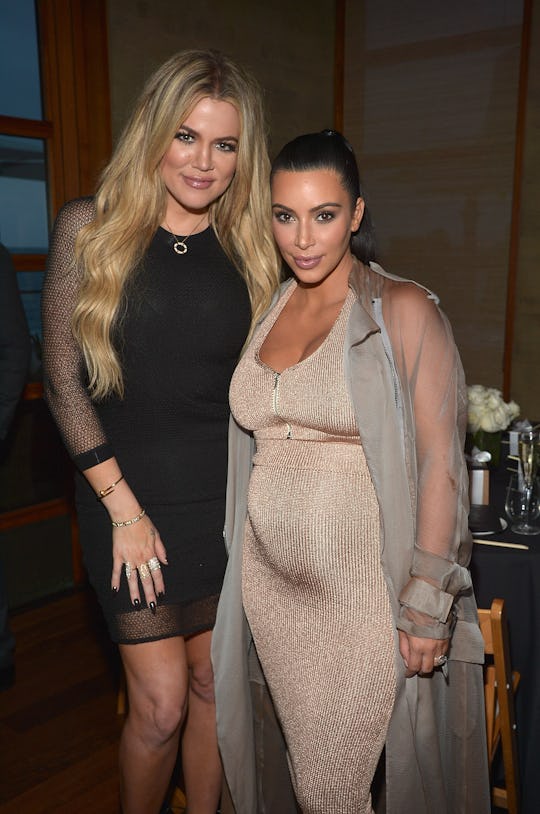 Charley Gallay/Getty Images Entertainment/Getty Images
True Thompson Met Her Cousins For The First Time & According To Kim K, It Was A Total "Lovefest"
Khloé Kardashian has been in Cleveland, Ohio ever since she gave birth to baby True in April. Her family reportedly flew out to be with her in the days just after the birth, but it wasn't until this weekend that True Thompson met her cousins in Calabasas and the whole family was properly (and adorably) united.
In an interview with Access Hollywood, Kim Kardashian said that Khloé, Tristan Thompson, and baby True all traveled together this past weekend for a visit. It was Father's Day, and the sisters were posting tributes to their late father, Rob Kardashian, on social media all weekend. Which is just to say that it was a good excuse to get all of the sisters together and spend time with the whole family in Calabasas.
Kim said in the interview with Access Hollywood on Tuesday night, "I'm so excited. They came back on Sunday and I just piled the kids in the car and took them to meet their cousin, True, and it was a lovefest." She added that she felt bad for the newborn and the newly arrived Khloé.
"First it was Kourtney and all of her kids, then me and all of my kids, then my mom, [then] Kylie. It was just like, everyone was just coming over to see the baby and wanting to introduce my kids to their new little cousin. So it was really good to see her and have her back," Kim explained, according to Access Hollywood . And it was a classic Kardashian-Jenner party, too, complete with extravagant decorations that the family shared on Snapchat.
Kim continued in the same Access Hollywood interview, "I feel like Stormi and Chicago have so many photo shoots together, and we just text the pictures to Khloé of them sitting on the couch and we're like, 'Where you at, True? We're waiting for you!'" Finally, baby True has made it to the West coast.
As you can see in the pictures above, there were cookies with True's face on them and little storks. Kylie Jener and Stormi got her a bunch of pink and white balloons that read, "Welcome home Khloé and True." So it really was quite the lovefest.
Given that everyone was all together, it's possible that they filmed the family reunion for Season 15 of Keeping Up With The Kardashians. It was reported by People that Khloé does plan on addressing Thompson's cheating allegations on the show, so this would have been a good time to get all those reaction shots, with all the sisters in one room. Who knows, maybe even Thompson sat down for the cameras to add a little drama. (Romper's requests for comment from Thompson and Kardashian's reps regarding the scandal have not yet been returned.)
According to the Daily Mail, Thompson was definitely with Khloé in California this weekend, as they were spotted by paparazzi out on the town at Nobu, at a Dave Chapelle show with Kris Jenner and Corey Gamble, at the Peppermint Club with Kendall Jenner, and even picking up fast food in a drive through, as reported by People. So despite the rumors every other day that they are breaking up because of his alleged infidelity, things seem to be on the up and up. (Although did you notice that Kylie didn't welcome him to L.A. in her balloon message? Hmmm... )
A source close to the family told People that it's not just for show. They said, "Khloé and Tristan seem to be in the best place they've been since the scandal." "Khloé's super family focused and wants to keep her family together. The focus is on their newborn daughter," the source told People. "Tristan's been supportive and helping out when he can. No one was anticipating he was gonna come out with her and that they would be so public last night."
Another "friend of the family" told People in a separate interview that Thompson was "nervous" about seeing the sisters and that they were still upset with him. Then again, anonymous sources who claim to be close to the family might not know what they're talking about. Given all of the outings with her mom and sister, it doesn't *look* like they're giving him the cold shoulder.
In any case, it was always reportedly the plan for Khloé to divide her time between California and Ohio, so this first trip out there will certainly set the tone going forward. Fans will simply have to wait until the Season 15 premiere of KUWTK to get the juicy details straight from the KarJenner women themselves. It can't come soon enough.