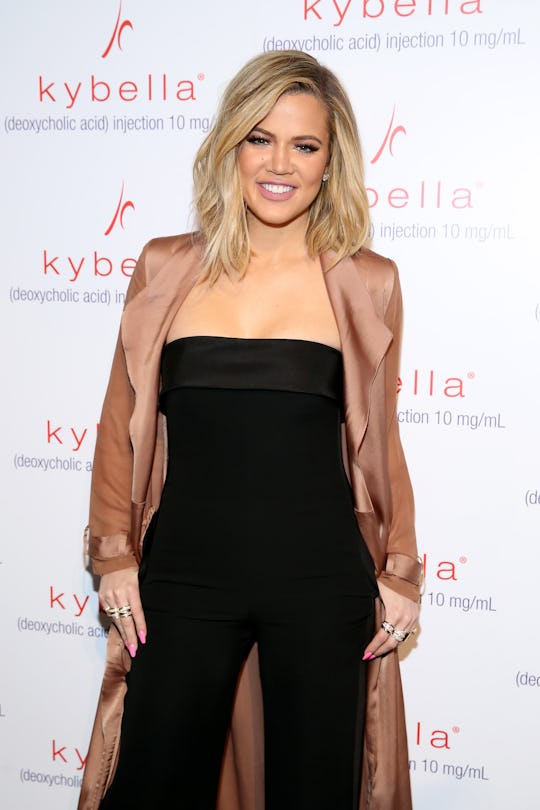 Cindy Ord/Getty Images Entertainment/Getty Images
Khloé Kardashian Shared A Rare Photo Of Tristan Thompson With Baby True For Father's Day
Since the birth of her first child, Khloé Kardashian has been pretty quiet about her relationship with boyfriend Tristan Thompson, and for good reason. But Khloé Kardashian posted a Father's Day message today featuring a photo with her daughter, True Thompson, and it offers one of the first glimpses into her life with the Cleveland Cavaliers player and her baby girl.
In the Snapchat photo, True is taking a snooze in her baby carrier and you can see that someone who is presumably Thompson is holding her hand, although his face isn't shown in the image. Over the photo, Kardashian simply wrote, "Happy Father's Day," which seems to be about all we're going to get from the Good American designer.
There's been a ton of speculation about her relationship with Thompson in the past few months. Just days before she was due to give birth, two videos were published by The Daily Mail and TMZ, respectively, purporting to show Thompson with other women. Neither Kardashian or Thompson has commented publicly about the situation, though there have been subtle signs on social media and through cryptic interviews with her sisters that things are being worked out, slowly but surely. (Romper's requests for comment from Kardashian or Thompson's reps regarding the cheating allegations were not immediately returned.)
It's not clear whether the photo Kardashian shared on Snapchat was taken on Sunday or not, but the image does seem to show that the family spends time together whenever they can.
According to Hollywood Life, a Kardashian "insider" said that the new mom wanted to spoil Thompson for Father's Day. "Khloe plans to totally spoil Tristan for Father's Day. Whatever has happened between them has nothing to do with her love and gratitude to him for giving her True," the anonymous source said. This person added that, "She has never wanted anything more than to be a mom and Tristan helped make that possible, so although they do still have certain issues to work out, she won't let his mistakes ruin this special day."
Of course, Kardashian herself often calls out anonymous "insiders" or "friends of the family" in articles about her personal life, so it's best to take all of that with a whopping grain of salt. But, like moms out there, it's highly likely the Kardashian is, actually, full of gratitude for the father of her baby girl.
Kardashian didn't forget all of the other dads in her life, either. On her app this weekend, she also gave a shout out to her brother Rob Kardashian for transitioning so well into fatherhood. As Us Weekly reported, he wrote:
My brother Rob is like my father in so many ways — his sense of humor, silly nature, the way he loves and respects family. My dad would do anything for his kids and my brother is the same way for Dream. I'm so proud of him! My dad would be really proud that Rob wants to implement his Armenian roots into Dream's upbringing.
Kardashian added, "It would mean so much to him that all of his grandchildren are so close. It's family over everything and I love that my brother is the same way." Those two have always been very close, but maybe her shoutout to her brother is a way of bringing him back into the fold, too, for the upcoming season of their show.
In the trailer for Season 15 of Keeping Up With The Kardashians, Kim Kardashian says, "it's just better when we're all together," and a title card teases that this upcoming season will reveal the "real story behind the headlines." Since the last season ended with the gender reveal of True, this one will likely feature all of the new babies and maybe even address some of the reported relationship drama between Kardashian and Thompson.
While us fans all wait for the new season to see what edited version of the "real" story they want us to see, the family is likely celebrating Father's Day in some super extra way from Cleveland to Calabasas this weekend.