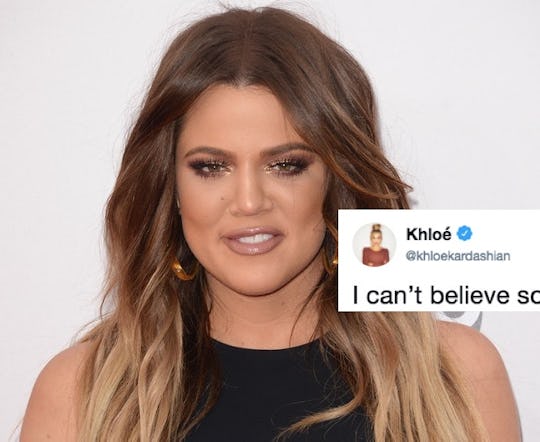 Jason Merritt/TERM/Getty Images Entertainment/Getty Images
Khloé Kardashian May Have Addressed Those Tristan Thompson Marriage Rumors With This Tweet
There's reportedly been a lot of drama in Khloé Kardashian's life this spring, given the birth of her daughter and the rumors that there's trouble in paradise between her and her boyfriend, NBA player Tristan Thompson. Not like it's any of their business, but fans don't really know what's going on, given the lack of any formal statement from the reality star. However, Khloé Kardashian might have addressed Tristan Thompson marriage rumors on Tuesday evening. And sent a strong message to her fans about reading news on the internet.
Late Tuesday afternoon, as Cosmopolitan reported, People published a story quoting an "anonymous source" saying that Khloé keeps Tristan "on a short leash." The source added that marriage was in the works. "Khloé wants to get married eventually, but there are no serious wedding talks yet. She does talk about a future with Tristan, though. She believes they can figure things out and have a happy life together," this anonymous source reportedly told the outlet.
It's possible that it was unrelated, but about three hours later, Khloé tweeted, "I can't believe some of the stories people create. Where do they come from and who are these 'sources'? Hummmm."
The timing and subject of her tweet seems to imply that she didn't dig the headlines about her and Tristan getting married and that she isn't here for any story that comes from an "anonymous source" or an "insider close to the family." Which is probably fair.
There are probably thousands of stories and blogs posted about the Kardashian family worldwide, every single day. A lot of them are often based on "sources close to the family," who might wish to remain anonymous to keep their jobs, friendships, or have some other motives. Only the outlets that originally report on those tips can speak to the integrity of their sources and reporting. That's what they do, whether or not the celebs they report on like it.
But it's easy to see how it can be frustrating for someone like Khloé Kardashian to scroll through the internet every day and see stories that aren't matching up to her lived reality. It's also easy to see why Khloé's fans are dying to know more the state of her and Tristan's relationship since the Daily Mail and TMZ published two separate videos of the NBA star. Her fans are invested in her life and there hasn't been any official word about what's going on with her at this really important, possibly major moment.
Neither Khloé or Tristan has addressed the alleged cheating or given any sign about what they plan on doing going forward. If they were a couple that you knew in your own life, would you keep tweeting at them to give a relationship status update every few hours and demand answers? Like, they have a new baby and possibly some relationship things to work out. That takes time, no matter how famous they are.
So, Khloé shouldn't be expected to say anything at all about Tristan or whether she wants to marry him or not right now. Or ever, to be honest. As a celebrity who became famous solely for putting their lives on television and social media, it's fair to assume that Koko owes some statement or something to the public. But she doesn't.
Even on Keeping Up With The Kardashians, the family picks and chooses what becomes a plot line and edits what they say. It's a reality television show, it's not like E! is wiretapping their house. Which means that fans, unless they really are "close to the family," never really know what's going on with Khloé or the rest of her family.
If Khloé wants to announce an engagement, a breakup, or another baby, she'll do it on her time. If she says to take some reports in the media with a large piece of salt, it's probably best to listen to her. Don't hold your breath for a Kardashian wedding anytime soon.