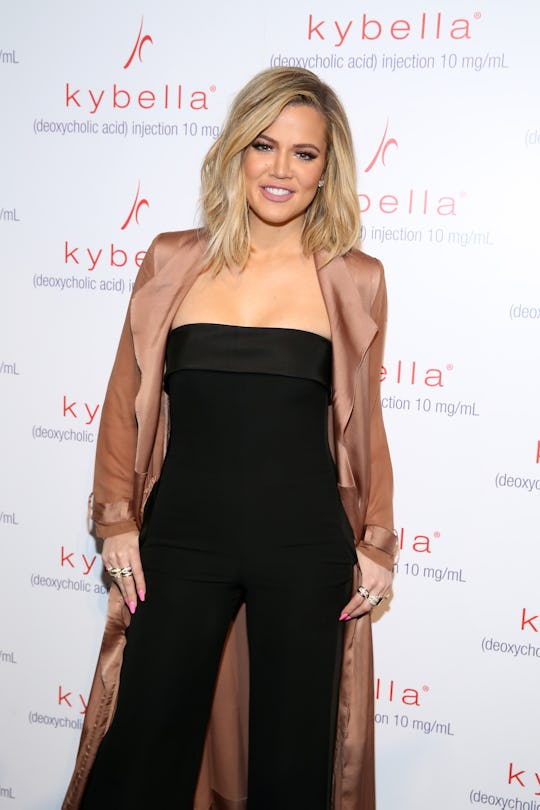 Cindy Ord/Getty Images Entertainment/Getty Images
Khloé K. Gave Birth To Her Daughter In Cleveland, But Where Are She & Baby True Living Now?
A baby's first days are always a little chaotic for a new parent, but new mom Khloé Kardashian has some important decisions to make about what she wants to do for her and her daughter — True Thompson, who was born on April 12 — going forward. Like, given the recent cheating allegations dominate headlines recently, are she and her boyfriend, Tristan Thompson, going to split up? Have they been talking things though? And where is True Thompson living right now? There are so many things to figure out.
Depending on the situation, of course. Last week, the Daily Mail published a video that purports to show Thompson allegedly with a woman in New York City and just afterwards, TMZ released a video that purports to show the basketball player allegedly with two women from back in October. None of the rumors have been addressed by the family, and representatives for Kardashian and Thompson did not immediately return Romper's request comment regarding the allegations. So fans really have no idea if Thompson was actually unfaithful, what Kardashian knew and when she knew it, and how she plans to raise her daughter now or if anything has changed since.
Previously, Kardashian had set up a home with Thompson far, far away from Calabasas in Cleveland, Ohio. She specifically decided to give birth in Cleveland so that she could be close to her and Thompson's new home. Her intention seemed to be to split her time with the father of her child in Ohio and then shoot back to California for work and to visit her family. But all of that might have changed.
According to TMZ, Kardashian and Thompson's relationship is allegedly "on the rocks" at the moment. Though he was reportedly in the delivery room when she gave birth, the two have allegedly not been in the same room alone since then, the gossip outlet reported. It also claimed that sources say Kardashian and True are staying at Thompson's place in Cleveland for now, especially because the nursery was all set up and everything. TMZ reported that once Kardashian is medically cleared to fly, she's headed back to Los Angeles with her child.
For what it's worth, Bravo reported that Kardashian has sole custody of True Thompson right now. According to Ohio state's law, an unmarried mother has "sole residential parent and legal custodian of the child until a court makes a formal Court Order stating something else," meaning that Thompson would have to petition for custody.
If she moves back to California, Ohio would have jurisdiction for six months. So Kardashian can technically do what she pleases with her daughter without having to get Thompson's approval. Legally, that is. Again, no one knows what's up with those two right now or how they plan on raising baby True.
Right now, it seems like Kardashian and True have all the company they need in Cleveland while they figure it out. Kim Kardashian posted a picture of her and Kourtney Kardashian at the beach this week with the caption, "We're on our way sis..." Kourtney and Kylie Jenner were at Coachella over the weekend, but People reported that Kim, Kourtney, and Kendall Jenner were getting off of a plane in Cleveland on Monday afternoon. Momager Kris Jenner has also reportedly been in town to visit the new mom. They all allegedly left Cleveland without Kardashian in tow, according to TMZ, so she must not be ready to make any moves just yet.
Wherever Kardashian decides to raise her daughter, it doesn't seem like she wants some huge custody battle with Thompson, if they are indeed fighting. Kardashian announced her daughter's birth and name on Instagram, writing:
Our little girl, True Thompson, has completely stolen our hearts and we are overwhelmed with LOVE. Such a blessing to welcome this angel into the family! Mommy and Daddy loooooove you True!
By all appearances, the two don't seem to be fighting about anything in public, least of all where they're going to live. Kardashian will be a great mom and will have all the support she needs from her family, no matter where she lives with her daughter, with or without Thompson. Whatever she decides, it will be the right choice.
Check out Romper's new video series, Bearing The Motherload, where disagreeing parents from different sides of an issue sit down with a mediator and talk about how to support (and not judge) each other's parenting perspectives. New episodes air Mondays on Facebook.