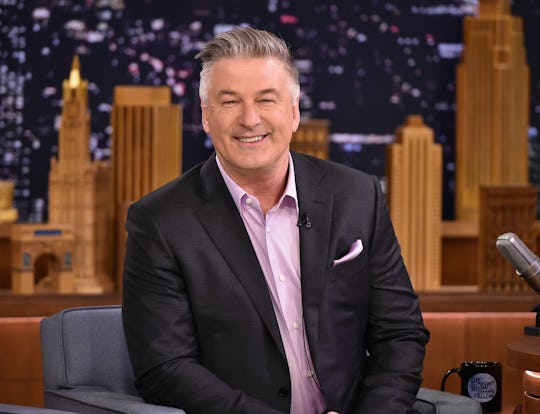 Theo Wargo/Getty Images Entertainment/Getty Images
'SNL' Takes Trump To 'People's Court'
When Alec Baldwin was slated to host Saturday Night Live, it was easy to imagine that he would just do his Donald Trump impression all night. But he didn't. Instead, the sketch show saved the best for last. In a sketch late in the show, Alec Baldwin as Trump went to People's Court on Saturday Night Live and it was a pretty perfect parody of the travel ban hearing that happened earlier this week.
It was the only sketch that Baldwin appeared in playing his now iconic Trump character. As he entered the fictional court room, a narrator said, "Some phony judges are being very mean to him. He's asking for broad unchecked power — will he get it?" Cecily Strong, playing the judge, asked him if he knew he was in a TV courtroom. "That's OK, I'm a TV President," Baldwin's Trump answers. The defendants? Three judges accused of letting "bad hombres into this country."
It carried on as you could possibly imagine, with Baldwin's Trump hitting all the "Trump" marks. Baldwin's Trump asked Strong, "what do you call a lady judge?" and every time she said "judge," Baldwin's Trump interjects, "so-called judge" and even tried to "allow" his own objection, playing on the idea that President Trump thinks he can do anything.
In his defense, Baldwin's Trump said, "I signed a tremendous travel ban, I didn't read it, but I signed it." He asks that the ban be reinstated and that he gets $275, driving home the point that the president might not actually understand how this whole "federal appeals court-thing" works.
Baldwin's Trump recited the Cops theme song — bad boys, bad boys, what you gonna do? — testimony, just before bringing in a shirtless Vladmir Putin who called him a "little American Happy Meal" and vowed to meet the president at Mar-a-Lago before exiting the courtroom.
Strong's judge eventually tried to decide the case. "I read the ban, it seemed rushed even to me, and I decide three court cases in an hour," she says. Strong added, "I want one day without a CNN alert that scares the hell out of me." If you were waiting for Baldwin to stick it to Trump, this was a pretty good effort.
As in real life, the judge decided in the name of the three, mean judges, as Baldwin's Trump sulks behind his desk. But SNL didn't leave it there. "Next episode: Donald J Trump v. a manager at Nordstrom." Ouch. Trump might break Twitter for this one.