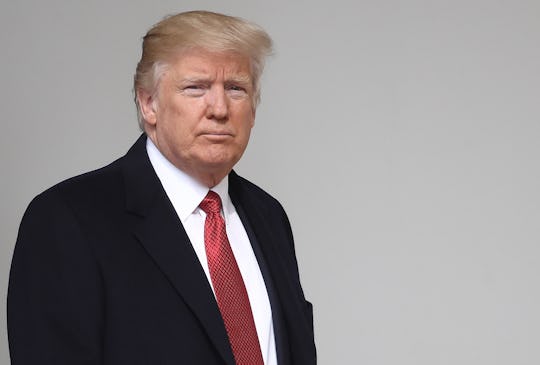 Win McNamee/Getty Images News/Getty Images
Trump Isn't Happy About The Recent Travel Ban Halt
It's déjá vu all over again for the latest iteration of President Donald Trump & Co.'s travel ban targeting refugees and travelers from Muslim-majority countries. But just hours before the revised executive order was set to take effect just after midnight March 16, a federal judge in Hawaii blocked its implementation. U.S. District Judge Derrick K. Watson agreed with the state of Hawaii in his ruling, which had argued in a lawsuit that the ban violates the clause of the Constitution that prevents religious discrimination, Reuters reported. Still, much like when a federal judge blocked the original version of the order, Trump's response to the latest travel ban block shows his dedication to pushing it through — no matter what.
"A judge has just blocked an executive order on travel and refugees coming into our country from certain countries," Trump said at a rally in Nashville Wednesday, soon after news broke that the United States would, in fact, continue issuing visas to travelers from Iran, Libya, Sudan, Somalia, Syria, and Yemen when Thursday rolls around. "The order he blocked was a watered down version of the first order, that was also blocked by another judge, and should have never been blocked to start with. This new order was tailored to the dictates of the [court's], in my opinion, flawed ruling."
Having pledged to ban Muslims from entering the United States to protect from terrorism during his campaign, the president originally sought to bar travelers from these countries, plus Iraq, back in late January. Hastily and chaotically implemented, the ban inspired protests across the country as people literally landed in American airports and were detained or turned away.
Trump went on Wednesday to promise that he will continue to work to enact the ban:
The danger is clear, the law is clear, the need for my executive order is clear. I was elected to change our broken and dangerous system and thinking in government that has endangered and weakened our country, and left our people defenseless, and I will not stop fighting for the safety of you and your family. Not today, not ever. We're gonna win it. We're gonna win it. We're gonna apply common sense, and we're gonna apply intelligence, and we're never going away, and we're never, ever giving up.
At the time of the blocking of the original order, U.S. District Judge James C. Robart of Seattle blocked the ban, which also suspended the country's refugee program. The original ban — which the Trump administration insists is not a Muslim ban — was still tied up in the courts March 6 when Trump signed the new order. But it was no surprise to anyone who was paying attention that the president and his people tried once again to push the order through (this time with tweaks, such as the elimination of language that gave preference to religious minorities in the Muslim-majority countries, intended to make it more legally permissible).
That's because, much as he did in his more recent reaction, Trump made it clear in calling the latest ruling an "unprecedented judicial overreach" that he would not accept the striking down of one of his key policy proposals. In February, he blasted Robart as a "so-called judge" and pledged that the decision would be overturned in a series of tweets that set off alarm bells throughout the government and among an uneasy electorate. Most disturbingly, he urged Americans to blame the judge personally if a travelers whom the ban would have barred from the country did carry out an attack.
"Just cannot believe a judge would put our country in such peril," Trump tweeted the day after lamenting his own incorrect belief that "anyone, even with bad intentions" can enter the United States. "If something happens blame him and court system. People pouring in. Bad!"
The fact is, though, that the United States already employs an extensive vetting process for refugees and other immigrants. Nevertheless, Trump's second attempt at a travel ban would have suspended the refugee program for 120 days and made it impossible for anyone from the six targeted countries to get a visa to enter the country for 90 days. Long-term, it would have allowed only 50,000 refugees to resettle here in 2017, down from the 110,000 annually established during President Obama's tenure.
Just as it's abundantly obvious that Trump will try and try again to find a legal way to enact his will, there's no doubt that a little thing like the Constitution and those dedicated to enforcing it aren't going to make it easy for him.