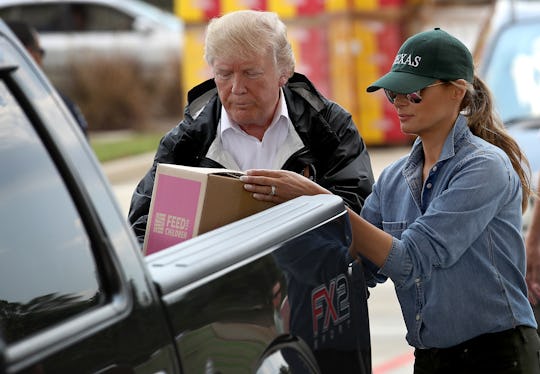 Win McNamee/Getty Images News/Getty Images
How Trump Is Responding To Hurricane Irma Vs. Hurricane Harvey
As Hurricane Irma continues to make its way through the Caribbean and toward Florida, politicians and local leaders are making statements about the storm. Obviously, everyone is ready to hear what President Donald Trump's response to Hurricane Irma will be and if it will differ, at all, from his response to Hurricane Harvey just over a week ago. Perhaps not surprisingly, President Trump's response to Irma, so far, has been pretty similar to how he approached the onslaught of rainfall and flooding in Texas.
As footage of the hurricane hitting St. Martin and the Caribbean began to make its rounds on social media, Trump tweeted on Wednesday afternoon:
Watching Hurricane closely. My team, which has done, and is doing, such a good job in Texas, is already in Florida. No rest for the weary!
He then added in another tweet, "Hurricane looks like largest ever recorded in the Atlantic!" Trump followed up with two other tweets depicting images of the storm via satellite and one assuring his followers that he had been in touch with Florida Gov. Rick Scott and had issued emergency declarations, which will ensure that federal funding will be made available to the state as it prepares for the worst of the weather. He did the same at the bequest of Texas Gov. Greg Abbott in the lead up to Harvey.
This acknowledgement of the sheer size of the storm and assurances that he was monitoring the storm closely is already a little more than he gave in the lead up to Harvey.
Leading up to Harvey, Trump took some time to tweet about the storm, once he announced that he was pardoning Joe Arpaio and recommended a book by Sheriff David Clarke, which resulted in some criticism on social media and in the press that he was either politicizing the storm or not taking its effects seriously.
Trump later tweeted that there were able officials on the ground in Texas ready for the storm. It wasn't until about a dozen tweets later that he used the word "Houston" in a tweet, as residents fled the flooded city.
Here's what Trump tweeted about Harvey:
And his response to Irma so far:
Trump might be responding a little sooner to Irma than he did Harvey (at least on Twitter), because it's hard to ignore that many of his properties have already been or could be affected by the storm. Just before one of his first tweets about the storm on Wednesday, Irma hit St. Martin, right around Trump's compound in Plum Bay, according to The Washington Post.
"We know that the four most solid buildings on the island have been destroyed, which means that more rustic structures have probably been completely or partially destroyed," French Interior Minister Gerard Collomb told the AFP, which means that the property could have been affected.
Although Irma's path over the United States is still unknown, the storm could also potentially hit Trump's three gold courses in Doral, West Palm Beach, and Jupiter, Florida, in addition to Mar-A-Lago.
Of course, Trump divested business interests before settling into the Oval Office and watching the trajectory of a storm closely is just something a president does, whether or not their golf courses are at risk. But Florida certainly holds a certain spot in his heart, seeing as he visited Mar-A-Lago and his other Sunshine State courses almost 20 times during his first three months in office alone.
As Irma makes its way towards the mainland, it would only be presidential to be concerned for residents and ensure speedy relief efforts for the victims of any storm, which means there will likely be many more tweets from Trump regarding Hurricane Irma. After striking a deal with Democrats about Harvey aid on Wednesday, there's still no reason for legislators to forget about Texas in the wake of this new, potentially catastrophic storm.
Check out Romper's new video series, Romper's Doula Diaries: