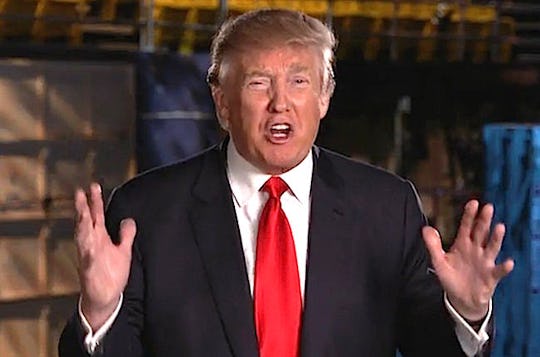 Saturday Night Live/YouTube
Trump's 'SNL' Episode Brings In The Show's Highest Ratings In Nearly 4 Years, & That's "Huuuuge"
It may comes as no surprise, because the show was hyped like crazy, but Donald Trump's Saturday Night Live hosting gig brought a lot of eyeballs to NBC last night. Get this, though: Trump's SNL episode brought the highest ratings since 2012. It was that big. According to the Internet (and basically every tweet I read last night), Trump's performance was mostly underwhelming and some of the show's best moments didn't even feature The Donald at all. (OK, except that "Hotline Bling" cameo, which was money.) Still, there's no denying that people tuned in just to see what he would do and what crazy things would come out of his mouth. People adore a spectacle, and Trump is the king of 'em.
According to TV Line, Trump's SNL episode averaged a 6.6 rating and 16 share in "metered-market households." In other words, ratings were... well, sorry to make another huuuge joke here, but: huuuge. TV Line's analysis of these numbers rate the episode as the most watched SNL episode since Jan. 7, 2012, when Charles Barkley hosted with musical guest Kelly Clarkson. TV Line's analysis also concluded that Trump's episode drew 53 percent more viewers than any episode the comedy sketch show produced last November. This basically proves Lorne Michaels knows what people want to see. And that's the Donald. Oh, yea — and Sia. Let's not forget Sia.
It's pretty unbelievable that even when Trump's not the star of the main event, he still draws a crowd. The Donald only appeared for 12 minutes of the episode. And remember when he announced he was live tweeting the Democratic debate, and everyone flocked to Twitter to see what he had to say? It was The Donald who won the spotlight that evening. Trump gained 60,000 Twitter followers that night, more than any of the Democrats on stage.
Oh, and he wasn't shy about it either:
When SNL booked him to star in its show, Trump was flanked with seasoned comics to help him deliver his opening monologue, including Larry David, SNL cast member Taran Killam and former SNL cast member Darrell Hammond. 
And no matter what you think of Trump as a person or a candidate, let's face it. I watched to see Trump, and chances are, you did too. And while he may not have totally killed it, hey — I definitely laughed.
Images: Saturday Night Live/YouTube; Giphy (2)