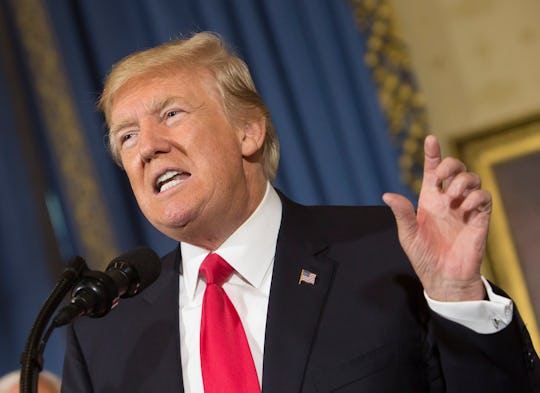 Pool/Getty Images News/Getty Images
Trump's Tweet About Barron & The Russia Investigation Is Grossly Unfair To His Son
Trump's administration might be a family affair — both his daughter, Ivanka Trump, and his son-in-law, Jared Kushner, hold White House positions — but having your dad as the incredibly controversial POTUS can't be exactly be easy for Trump's youngest child, 11-year-old Barron Trump. Regardless of political leaning, it seems that most people can agree that, as a child, Barron should be off-limits to judgment and commentary. But in a tweet early Tuesday morning, the president himself brought the boy into a conversation about Jared Kushner and Russian collusion. And while it shouldn't even need to actually be said, Trump's tweet about Barron being interviewed regarding Russia is the definition of hypocrisy.
According to Politico, Trump took to Twitter to address Kushner's Monday testimony in front of the Senate Intelligence Committee, in relation to the investigation into possible collusion between members of the Trump campaign and the Russian government. In an 11-page public statement released Monday morning, Kushner said he "did not collude, nor know of anyone else in the campaign who colluded, with any foreign government," according to CNN, and in his tweet, Trump backed him up, writing that Kushner "did very well yesterday in proving he did not collude with the Russians." But since the president isn't usually one to quit while he's ahead, he also claimed that the investigation was a "witch hunt," and joked, "next up, 11 year old Barron Trump!"
It's not entirely surprising rhetoric from a president who regularly uses social media to condemn unfavorable stories about him as "fake news," and whose latest post about Obamacare claimed that the act that gave millions of Americans access to health care is "torturing the American People." But even for Trump, making a joke about Barron to further his political agenda seems particularly inappropriate. And, thankfully, it's something that Twitter quickly called him out for:
In general, the notion that Trump would bring his young son up in the same conversation in which he's defending Kushner from Russian collusion seems very wrong. But what makes it so much worse is the fact that, earlier this year, the White House specifically called on the media to leave Barron alone. According to Variety, Trump's team issued a statement in January that said,
It is a longstanding tradition that the children of Presidents are afforded the opportunity to grow up outside of the political spotlight. The White House fully expects this tradition to continue. We appreciate your cooperation in this matter.
The request was totally reasonable, and one that deserves to be respected regardless of who is in office. And while it wasn't something everyone agreed to, backlash has always been pretty strong against anyone who felt it was OK to discuss Barron publicly. In Nov. 2016, Rosie O'Donnell issued an apology in response to public criticism over her comments speculating that Barron may have autism. And in January, Saturday Night Live writer Katie Rich also publicly apologized for a tweet about Trump's youngest son, which she admitted had been "insensitive" and "inexcusable," according to Variety. Rich was also suspended from the show for the comment, and the statement from the White House was released shortly after.
In the fallout from Rich's comment, Barron found an ally in Chelsea Clinton, who certainly understood the pressure of being the child of a United States president. Clinton argued in a tweet that Barron "deserves the chance that every child does — to be a kid," and urged Americans to respect his privacy. And even former White House intern Monica Lewinsky spoke out on the young boy's behalf: the anti-bullying advocate retweeted a Bustle article about the unfair comments being made about Trump's youngest son, and wrote that "all children need to be protected from bullying [and] mockery," including Barron.
But the fact that the general public consensus seems to be that Barron Trump is entirely deserving of privacy and being left out of his father's politics (because he literally has nothing at all to do with it) is part of what makes Trump's latest tweet about his son so infuriating. After all, of all the individuals who should be pushing to protect Barron, and to allow him the best possible chance to live as normal a life as possible, it seems that Trump should be number one.
What's worse though is that it's not just that Trump is tweeting about his son — it's that he has specifically done so in a comment about an investigation looking into serious and concerning claims that the Trump administration had ties to Russia that allegedly influenced the outcome of the presidential election. It's not like he's proudly tweeting about his son's game-winning home run, or some other benign detail. In his tweet about Kushner, Trump basically used Barron as a political tool to deflect from the fact that his son-in-law may have committed a crime.
Trump's tweet seems to be yet another example of the president's lack of boundaries, and given that Barron doesn't really have a say in the matter, it's pretty upsetting. But at the very least, in a strange way, Trump's words are a reminder to the rest of us why it's important that we continue to leave Barron Trump out of political conversations. Although the POTUS may not necessarily see a problem with his comment, Barron deserves much better than becoming a trending topic on social media without his input or consent.