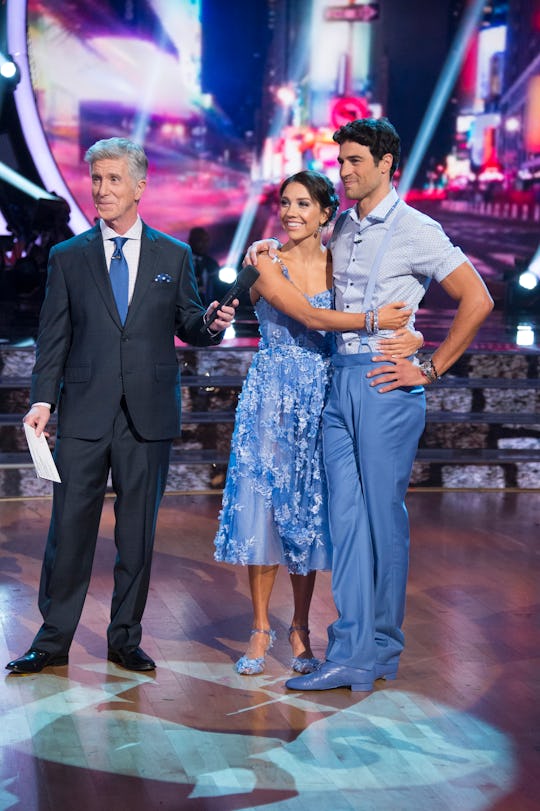 Eric McCandless/ABC
Grocery Store Joe's Fans On Twitter Are Supportive Of His 'DWTS' Journey
Fans loved Joe "Grocery Store Joe" Amabile as the one-night-wonder on Becca Kufrin's season of The Bachelorette. They continued to root for him afterward on Bachelor in Paradise and support him as a contestant on this season of Dancing With the Stars. Now, the tweets about Grocery Store Joe on DWTS prove just how much his following has grown. When Joe was announced as one of the DWTS contestants this season, Bachelor Nation was shook. It was clear that his 15 minutes was about to extend well beyond what he garnered after being eliminated on The Bachelorette on night one.
That's probably because after season after season of the same social media hams making their limo exits (sorry Kamil), Joe was a breath of fresh air with his realness. And it's that authenticity that has fans still rooting for him, even when the DWTS judges aren't thrilled with his performances so far. Despite earning the lowest scores in both week one and two, Joe has continued to advance on the show thanks to his devoted fanbase.
The judges' scores on DWTS count towards determining the fate of each contestant, but the fan votes are also a factor. And when the scores and votes are combined to figure out who's in the lead and who's falling behind, celebrities with low scores from the judges can still advance thanks to fan support. That's what seems to be happening with Joe and the tweets about Joe on DWTS prove how much he's still loved.
After Joe's Week 1 quickstep, he earned a combined score of 14 from the judges, and as much as I love him, I don't think I've ever seen a total score so low. One of his scores was a four, which I've also never seen in all my years of watching DWTS. But somehow, he managed to pull through and I have a *feeling* it was all thanks to his fans.
Joe did a little better during his Week 2 performances, when he earned a 17 and then an 18, but still, that put him at the bottom of the DWTS totem pole. Where fans are concerned, though, Joe could sit on the ballroom floor wearing a potato sack and eating dry toast and they'd still spend their allotted 13 votes to keep him in the running.
At least Joe himself has a sense of humor about the whole thing. After earning the lowest score of the night again in night two of Week 2, he posted a photo from the episode on Instagram with the caption: "Living in the teens." Ahead of the premiere, Joe told ABC News 13 that his main concern was going to be getting his moves right rather than worrying about having a live audience there watching him. "Five minutes to show time, I could freak out," he said. "I'm sure everything is going to be a problem."
Everything wasn't a problem, per se, but Joe danced like someone with little to no experience as a professional dancer — as to be expected. He's probably learning, however, that his fans do not actually care about his dancing skills (or lack thereof) at all.
I'm not sure if any past contestant has won due to fan votes trumping low scores from the judges, but if Joe continues this streak, he could do it. Joe's following has enabled him to stay in the game on fan votes alone rather than scores, which is important if his numbers continue to follow the same pattern. Luckily, Joe's fans are nothing if not protective of him.
Joe may not have been the smoothest dancer on the ballroom floor during Week 1 or Week 2, but he did bring the charm he became known for on The Bachelor franchise. Bachelor Nation stans a bashful hunk.
If this were anyone else, Joe's continued low scores would be cause for concern. But clearly his fans are taking care of him where it matters the most, and I am here to ride this one out.