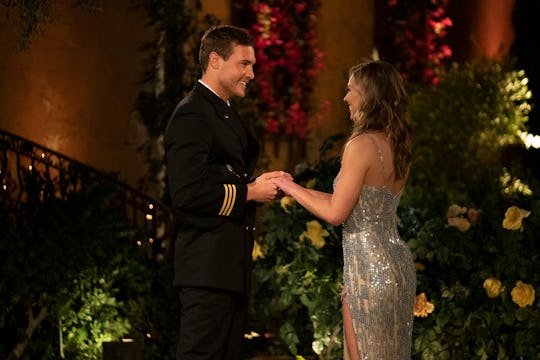 John Fleenor/ABC
Twitter Lost It When They Saw Who Was In The Windmill On 'The Bachelorette'
It's been weeks of speculation about who Hannah "f*cked in a windmill" and on the very first fantasy suite date, Bachelor Nation finally learned the mystery man's identity. Tweets about Peter and the windmill on The Bachelorette show that, although fans were surprised by the outcome, they were also super excited about it.
A Twitter sleuth had pored over the fantasy suite promo ahead of the episode and spotted a windmill in the background of Hannah and Jed's date. It prompted fans to run with the theory that Jed was the windmill sex that ultimately blew up Hannah and Luke's relationship. But Greece, where Hannah took her final four guys, is known for its windmills, and, as it turned out, Peter and Hannah actually slept in a windmill for their overnight date. It looked extremely cozy and it was stocked with condoms, calling back to Peter's embarrassing car console moment. Peter and Hannah were impressed with their digs, and the date itself was super adorable. For starters, Peter finally said I love you after chickening out during hometowns. Miraculously, he sailed through the rose ceremony anyway, despite there being other guys in the mix who had already dropped an L bomb.
Once in the Maldives, Peter and Hannah took a romantic (and very steamy) sailboat ride, complete with an "I'm king of the world!" Titanic moment. It took Peter a little while to work up to the I love you, and his opening line — "Do you know how much I like you?" — left a lot to be desired. Hannah vocalized her frustrations in a cutaway interview, saying:
There's still a layer of him holding back a little bit. I want to know that the guy I choose at the end of this does love me. I think tonight is really really important, not just that it's fantasy suite, but that I just need to ear more of where he's at
But later that night, over a romantic dinner, Peter finally got the words out after no less than three different lead-in monologues. "It's the greatest feeling ever," he told a beaming Hannah, who was obviously thrilled. "You don't know how much it means to me to say that," he added. Hannah invited Peter into the fantasy suite with her post-haste, which he happily agreed to.
Hannah came up with an impressive number of euphemisms for how important "entangling" her body and soul with a partner was, and, given the couple's blissed out morning-after footage, it definitely seems like their ~union~ was harmonious. Peter reported feeling "confident" the next day after "taking [their] relationship to the next level."
Despite having one of the stronger fantasy suite dates, Hannah and Peter's fate remains a mystery for now. The Bachelorette opted to air Hannah and Luke's blow-out fight instead of a rose ceremony at the end of the episode. Fans are going to have to wait one more week to find out whether Peter gets a rose going into the finale.