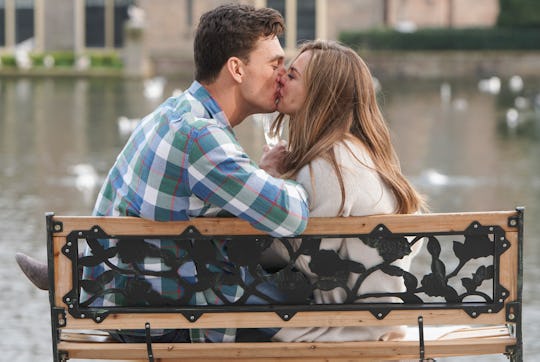 Mark Bourdillon/ABC
Tyler's Tight Pants On 'The Bachelorette' Were The Unsung Hero Of Hometown Dates
The Jul. 8 episode of The Bachelorette found Hannah visiting each of her remaining four suitors' hometowns, which means fans finally got to see her visit Jupiter, FL with Tyler. He's been a dark horse for most of the season, owing in part to his exceptionally good looks and goofy personality. It was sort of difficult to take him seriously in the beginning but, little by little, Hannah has drilled down to some surprising depths with him. Of course, tweets about Tyler's pants on The Bachelorette prove that fans still find him the sexiest finalist by a long shot.
Tyler's hometown date (like most of them this season, to be honest) was fairly low-frills. First, he and Hannah donned their best on-camera swimwear and took his boat out into the Loxahatchee River to visit the Jupiter Inlet Lighthouse. He also showed Hannah the house he grew up in before the 2008 recession forced his family to downsize — one of the formative traumas the 25-year-old disclosed to Hannah during an early one-on-one. Then, they lightened things up dancing along with a beachside bar's jam band. For her part, Hannah was clearly excited fantasizing about the prospect of living in Tyler's tropical paradise if they did wind up together. But she had concerns about his engagement readiness, which she planned to bring up with his family.
Tyler's family was slightly more reserved when meeting Hannah than Peter's was on her previous date, but she seemed to make a good enough impression. Tyler's extremely snug chinos made a great impression on viewers, but his pants game has been similarly tight all season. Dare I say, Tyler's tight pants may even have their own montage moment on the "Men Tell All" special?
But aside from Tyler's butt looking pristine on camera, there was also very emotional stuff happening! He hadn't seen his dad Jeff, who'd suffered a health scare right before Tyler's departure, since he left for the Bachelor mansion. Tyler was understandably worried about what state his dad's health would be in when they reunited, and there was obviously an extra layer of emotional stress bringing Hannah home for the first time. She was a champ through it all, though, and Tyler's brothers confided in her that he really did mature very quickly during their dad's health scare. In their opinion, he was definitely ready to take on marriage.
Tyler and his mom agreed in their one-on-one chat, and Jeff reassured Hannah that Tyler was at a time and place in his life where he was ready for marriage. Jeff also promised Hannah that both he and his wife would give them their blessing and support if they wanted to get married, which isn't something Bachelor/Bachelorette families give very freely. Before he and Hannah parted ways, Tyler and his cute butt got one last make-out session in, but he didn't say I love you. Luckily, he sailed through to fantasy suites during the rose ceremony anyway, so viewers have at least one more week of Tyler's wardrobe to enjoy.