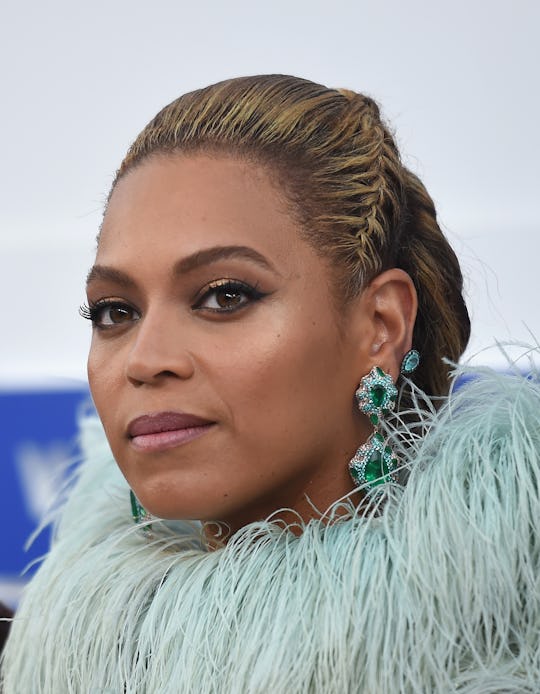 Jamie McCarthy/Getty Images Entertainment/Getty Images
Twitter Reactions To Beyonce At The VMAs Confirm That Beyonce Is Queen
After weeks of rumors, crossed fingers, and breath-holding, MTV, like the fairy godmother we never knew we had, gave us a Beyoncé performance that basically blew away everyone else at the VMAs, like we all knew it would. And then, as if on cue, all of social media went nuts. Twitter reactions to Beyoncé's performance at the VMAs confirm what we all already knew: Beyoncé is Queen of everything. Most performers at the VMAs get a few minutes, tops, for their performances. But the rules don't apply to Beyoncé. She performed half of her album Lemonade and literally nobody was mad at it.
From the costumes, to the lighting, to the choreography, to Bey's flawless voice, and ability to somehow stay on key while 100 percent killing it on that stage, Queen Bey was incredible, and now we're all dead. Nothing can compete with the artistic masterpieces of the videos themselves, but Beyoncé's stage performance featuring so many elements of her Lemonade visual album behind her and throughout her performance was pretty damn close. It was easily three times the length of the average VMA performance, but I would have been happy if she had commanded the entire show. Is our fawning adoration getting a bit old? Based on these tweets, I'd say not.
Aside from simple worship, a lot of Twitter felt a little confused and dismayed that someone allowed the inimitable Britney Spears to follow Beyoncé's performance — actually, why would they let anyone take the stage after Beyoncé? While Britney gave it her all, and a lot is due to the woman for having ruled pop charts for the greater part of the 21 century, she sadly fell far short of Beyoncé.
As usual, Bey held absolutely nothing back on stage in the VMAs this year. Her music has gotten a lot more impactful and political in the past few years, and this year was no different. She started with choreography that seemed to recall the Black Lives Matter movement, which she has been a vocal supporter of. She finished with her entire troupe in the form of the symbol for female, an echo of her enormous "FEMINIST" declaration from the 2014 VMAs. And the world loved every minute of it.
Beyoncé was not just the best part of the VMAs, Beyoncé was the VMAs. Not even Kanye West's bizarre, rambling speech and equally beguiling video can compete with the effortless, gorgeous, chilling performance from Beyoncé, a goddess among us.