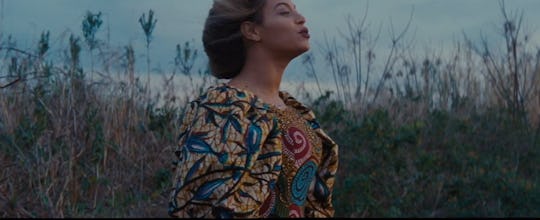 HBO
Twitter Reactions To Beyonce's 'Lemonade' Show The World Is Seriously Excited
Beyoncé fans around the world tuned into HBO on Saturday night to figure out just what exactly her new, mysterious "Lemonade" project was all about. Rumors had been percolating for ages, and the best guess circulating had been that Project Lemonade — as it was called by fans — was an album film. Her trailers didn't reveal much, with short voiceovers saying, "What am I gonna do, love? What am I gonna do?" or "The past and the present merge to meet us here." Mysterious? Definitely. So it's no surprise that the Twitter reactions to Beyonce's Lemonade have been full of surprise and emotion — and the tweets are certainly coming in quick from the Beyhivé.
Not that Beyoncé Knowles is any stranger to dropping surprises. In 2013, fans snapped up her unexpected album, Beyoncé, with fans as excited about the surprise as they were about the music. More recently, Beyoncé's instant classic, "Formation," was released in February with no prior warning. Then, during her (fantastic) Super Bowl performance, she announced her Formation World Tour, keeping the surprises rolling in for fans — and it's a tradition that keeps her fans waiting on baited breath.
It's not a bad strategy, and it's one that Beyoncé replicated quite well for her mysterious Project Lemonade. If you don't believe me, take a look at the (frantic) tweets her fans have been shooting out since HBO began streaming Lemonade.
Obviously, peopler were hella excited to hear some new Beyoncé music.
Of course, there were some that were worried Lemonade was a divorce announcement.
And those who thought Lemonade was about Beyoncé's dad and his betrayal of her mother.
But, above all, it reminded people of the power of the Bey.
Praise be to Beyoncé and all she does!