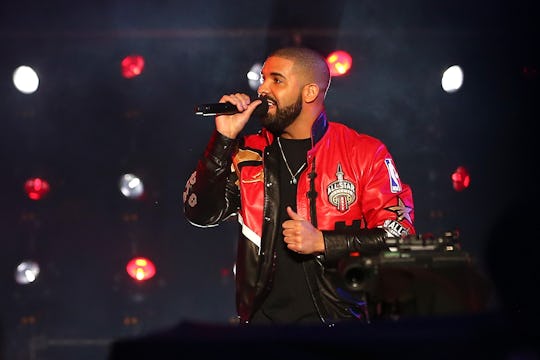 Elsa/Getty Images Sport/Getty Images
Twitter Reactions To Drake's Appearance At The VMAs Prove He's Bae
After much anticipation and what was apparently a huge traffic jam, Drake finally arrived at the MTV Video Music Awards just in time to present Rihanna with the Michael Jackson Video Vanguard award — and people had some feelings about it. Basically, the Twitter reactions to Drake's appearance at the VMAs were everything they needed to be and more.
Drake was actually awarded the first Moonman of the night for Best Hip-Hop Video for the legendary "Hotline Bling." However, when he was nowhere to be seen, Puffy accepted the award and explained Drake was stuck in traffic. It seemed too ridiculous to be true... And yet he remained absent from the show throughout the night, which included three performances from Rihanna.
As the night went on without Drake, viewers at home were getting increasingly concerned he wouldn't show. Sure, we all wanted to see him. But mostly we were all eager to see Drake and Rihanna together, especially after he bought a billboard to congratulate her.
Then, as the show was drawing to a close and it seemed like hope was slipping away, there he was — and right in time to profess his love for Rihanna for all to see. With that, Twitter basically died.
Drake on his own is great, and we definitely would have celebrated his appearance regardless. But, as we all secretly (or publicly) hoped, one of the most heartwarming moments in all of the VMAs history happened when Drake told the whole world how much he loves Rihanna. It was all we ever wanted and more, to be honest.