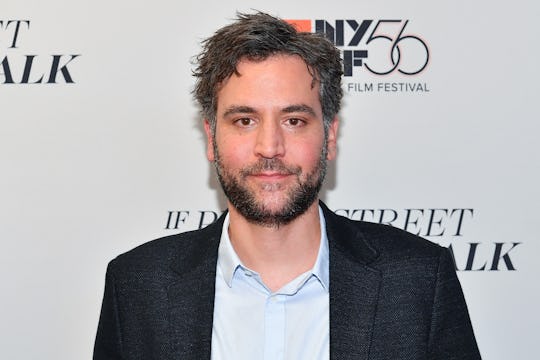 Dia Dipasupil/Getty Images Entertainment/Getty Images
Josh Radnor Could Be Meredith's Next Boyfriend On 'Grey's Anatomy'
No one will ever be the next McDreamy, but Meredith is finally ready to move on on Grey's Anatomy. After meeting with Cece, her patient/personal matchmaker, Meredith went on her first blind date with a software engineer named John, played by How I Met Your Mother's Josh Radnor. And the Twitter reactions to Josh Radnor on Grey's Anatomy prove that he could be Meredith's next big love. Even if he's not McDreamy.
Their blind date, as it turned out in Thursday's episode, ended up being a misunderstanding that worked out for them both afterward. Halfway through their lunch, John realized that he was on the wrong blind date, but Meredith helped him get out of his original date and they were basically in love before they could call for the check.
I don't know how long Radnor will be on Grey's this season, but if anyone could kind of/sort of/maybe fill Patrick Dempsey's shoes as a great love for Meredith, it might be him. Fans know Radnor best for his role as Ted Mosby on How I Met Your Mother. Although John is definitely not the same character from the long running CBS comedy, he has a certain charm that Meredith could do with in her life. And Twitter seems to agree.
Radnor's John wasn't the match Cece had intended for Meredith, but the two seemed to hit it off right from the start. Meredith didn't need Alex's get out of date free call, so it was an accidental match made in Grey's history.
I don't think a whole episode would be dedicated to Meredith's big blind date if things weren't going to go further than that. And obviously keeping Radnor around is what the fans want. After How I Met Your Mother, he starred in NBC's Rise. But it was cancelled after one season and now he's free to be an eventual regular on Grey's. It's not clear if that's the direction things will go, but Meredith definitely seemed smitten.
John may have messed things up when he told Meredith that he didn't want to date a single mom, but he could prove himself to be more Derek Shepherd and less Ted Mosby. Maybe.
Before Season 15 premiered, showrunner Krista Vernoff told TVLine that Meredith would find love again this season. That's a big deal for someone who almost moved on with Riggs and then flirted with Scott Speedman's character last season before he left the hospital, never to be seen or heard from again.
"Yes, [Mer]'s a single mom, and that complicates a dating life. And yes, she's a surgical marvel with new, game changing medical ideas she'll be pursuing," Vernoff said. "But she also hasn't dated at all since [Martin Henderson's] Nathan Riggs left [in Season 13]. And the one-two punch of meeting [Scott Speedman's] Nick Marsh awoke a desire in her that she can't put back to sleep. The question this season is not 'Will Meredith Grey find love again,' but 'With whom will she find love?'"
Vernoff also said that Speedman's character was meant to be a one-off, one episode character, so the same could be said for Radnor's character this season. So if nothing else, he might be another stepping stone in Meredith's journey to find her next "person," which isn't the worst thing. I would totally 'ship Meredith and John since they had plenty of chemistry on their date, but the way things ended make for an unclear future for the would-be couple. And some fans on Twitter are hoping for the best.