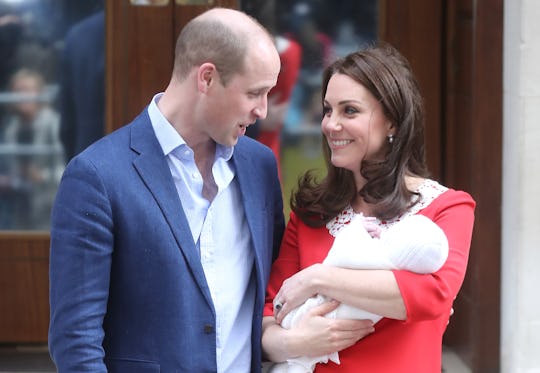 Chris Jackson/Getty Images Entertainment/Getty Images
Reactions To Prince Louis' Name Show People Are Just Happy It's *Finally* Here
The newest British royal may have been born on Monday, but it took a while before the world actually got to learn his name. After much speculation and eager anticipation, Kensington Palace revealed Friday that the Duke and Duchess of Cambridge's third child has been named Louis Arthur Charles — aka His Royal Highness Prince Louis of Cambridge. Naturally, it didn't take long for social media to chime in with their thoughts, but while people were full of all sorts of predictions earlier in the week, Twitter reactions to Prince Louis' name show that, at this point, people mostly seem to be happy just to finally know what it is.
As with his older brother and sister's births, Prince Louis' arrival made headlines around the world, as news cameras and royal watchers camped outside the Lindo Wing at St. Mary's Hospital in London, waiting for the Duke and Duchess to emerge on the steps to pose with their new baby. Few expected that the new baby's name would actually be announced immediately — according to rumored royal protocol, the Queen has to give the name her thumbs up first — but after days passed without any confirmation, the public seemed to be getting itchy for some news.
On the one hand, the world's anticipation of the newborn's name announcement makes sense: it was literally the only detail about the royal birth that was left to be revealed, and, to be fair, those of the betting persuasion were also likely eager to know if they'd made any money off of their predictions. But at the same time, it's not like we didn't at least have some kind of idea what his name might be.
Though the Duke and Duchess may have had a little bit more leeway when it came to naming their baby girl, Princess Charlotte, the pool of acceptable royal baby boy names is pretty small. And even though the actual rumored front-runner had appeared to be Arthur, Louis isn't exactly a surprising choice: not only does the name seem to be a tribute to both Prince Philip's grandfather, Prince Louis Alexander of Battenberg, and Prince Charles' great-uncle Earl Louis Mountbatten, according to TIME, it also happens to be one of Prince William's middle names, as well as one of the middle names given to Prince George in 2013.
Unsurprisingly, many loved the traditional, family-inspired name:
Though there was some initial confusion over the right way to pronounce it (hint: it's "Louie"):
One particular group celebrating the name in a big way though? One Direction fans, who were beyond psyched that the royal baby now shared a name with their favorite Louis, Louis Tomlinson:
And some couldn't help but wonder if perhaps this had been the real inspiration behind the baby's moniker:
Some were a bit bummed at the lack of originality though:
While others were just relieved by the change of pace:
But honestly, most people just seemed happy to finally know the baby boy's name:
Because the waiting was seriously starting to feel a little ridiculous:
Now that Prince Louis' name has officially been announced, it seems that the hoopla over the royal birth might finally be about to come to an end. Which really only means one thing: it's time to begin eagerly awaiting the next major royal event, Prince Harry's May 19 wedding to Meghan Markle (I mean, priorities, right?).
There are, of course, plenty of other important world events and issues that are arguably far more important than a newborn baby's name. But let's be honest, news of a celebrity birth is always a nice distraction from the often less-than-awesome news that seems to dominate the headlines. And a royal baby birth has to be the coolest celebrity birth announcement that there is.