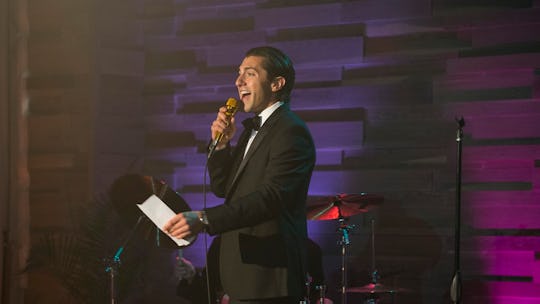 Paul Hebert/ABC
Jason's Brother On 'The Bachelorette' Has A Celebrity Doppelganger
Hometown dates always give the Bachelorette a chance to get to know each of the men a lot better and this includes meeting the family members who are closest to them. For Jason Tartick, that includes his brother who he said he looks up to a great deal. And while it seems like he's a genuinely caring big brother, Twitter also thinks Jason's brother on The Bachelorette looks like Darren Criss and they're not wrong.
Jason's brother was a special addition to the hometown dates episode of The Bachelorette for a few different reasons. First, the way Jason spoke about him to Becca before he introduced her to his family made it seem like the two of them are really close outside of the show and away from cameras. Then, there's the fact that he and his husband offered some great advice to the couple and once again, were so supportive of Jason's decision to be with Becca and do The Bachelorette in general. And lastly, there's literally no getting around the fact that Jason's brother has a celebrity doppelganger.
Jason's hometown date had a lot of other highlights as well, but Twitter can't get over how much his brother looks like Criss and at the moment, neither can I.
Even in the promo after Garrett's hometown date segment, it was like total shock to see Jason talking to his brother, who looks like a real life celebrity. The resemblance really is uncanny.
This may have been the first time ever that a suitor's openly gay family member appeared on The Bachelorette and in that respect, this episode was pretty groundbreaking. Being distracted by Jason's brother didn't take away from the awesomeness of the show finally featuring a gay family member of one of the contestants, but it's kind of a big deal.
Besides the inability to get over the fact that Jason's brother looks like Criss, Twitter is also all about him in general. I mean, same, because he and his husband were so warm and welcoming to Becca while also encouraging Jason to open up about his feelings regarding Becca and the whole Bachelorette process.
Even if Jason's brother didn't have the looks to make a hefty living as a celebrity impersonator, he and his husband basically made that segment. Sure, Jason's ice skating date was super adorable and all, but meeting his brother and brother-in-law made it ten times better.
Then again, there's also another famous face who Jason's brother resembles that you can't really un-see once you see it. He's obviously Criss's long lost brother, but Waldo from Where's Waldo is a close second.
If you take nothing else away from the hometown date episode, at least when it comes to Jason's segment, then let it be the awesomeness that is his brother. Well, and his brother's husband, because there's a reason why Jason looks up to them both as a shining example of a happy and healthy relationship.
Jason's brother is easily a dead ringer for Criss, but the more important thing that Twitter has also noticed is the fact that he seems like a perfect voice of reason for Jason. Chances are, we won't get to see him again this season, but if Jason has any sort of future in The Bachelor franchise, hopefully his brother will pop back up with some words of wisdom. I'm not saying that the fact that he looks just like a TV star is the entire reason behind his likability factor, but it certainly helps.