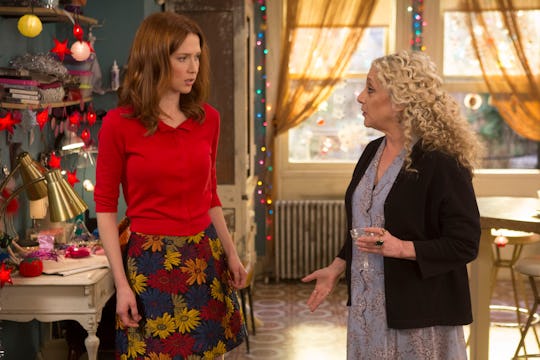 Eric Liebowitz/Netflix
These 'Kimmy Schmidt' Season 3 Guest Stars Are Incredible
For the first two seasons of Unbreakable Kimmy Schmidt, there were different celebrity guests peppered in, and in the most nonchalant ways. In other words, it wasn't all about the pomp and frill of having a guest star be the star of an episode, but rather a nice surprise as a new character was introduced. Which is why the Unbreakable Kimmy Schmidt Season 3 guest stars are going to make the newest season yet another fun ride for fans. Having Lisa Kudrow show up as Kimmy's mom at the end of Season 2 and none other than Jon Hamm as the Reverend in the first two seasons made the episodes somehow more fun to watch because these are such recognizable stars.
Over the two seasons the show has been on, co-creator Tina Fey even made appearances each season as different characters, who were each important to Kimmy's story but didn't steal too much focus, which is important. And with another former Saturday Night Live alum, Fred Armisen, already playing Lillian's boyfriend Bobby Durst (yes that Robert Durst), you'd better believe there will be even more former SNL cast members making appearances this season.
The new season premieres on Netflix on May 19, so get ready for the first watch by getting familiar with all of the guest stars for Season 3 of Unbreakable Kimmy Schmidt.
Maya Rudolph
According to Variety, Rudolph and Titus end up in a row boat somehow this season, which makes sense, considering Season 2 ended with Titus about to start his gig on the several month long cruise ship. But does that mean she's strictly his row boat travel companion and not meant for life on shore with Titus and the rest of the gang?
Rachel Dratch
Although it's unclear who Dratch will play on Season 3 of Unbreakable Kimmy Schmidt, there are so many storylines that pretty much anything is up for grabs. It looks like Kimmy is going to college, so maybe a wonky college professor? Or, possibly someone involved in Lillian's campaign? Either way, it's going to be good.
Daveed Diggs
Hamilton star Diggs will be a new love interest for Kimmy for Season 3, but since he's an experienced Broadway performer, he could have also killed it as someone linked to Titus, be that a romantic interest (r.i.p. Titus and Mikey) or a new rival. Since there was footage of a faux Hamilton audition from Titus before, Diggs could have gotten away with playing himself, but this is even better.
Laura Dern
Most recently, Dern killed it on HBO's limited series Big Little Lies as a Monterey, California mean girl mom, so since she played the role so well, maybe that means she's going to play another foil for Jacqueline and the high society she sometimes rejects but still craves.
Ray Liotta
Fey stated at a Tribeca Film Festival screening that Lillian gets a new love interest this season, so it's not totally crazy to think that Liotta might be the man to fill that role.
Andrea Martin
Martin is another Broadway star to be making an appearance in Season 3 of Unbreakable Kimmy Schmidt. There's also no word on who the Tony award winner will be playing, but there's always room for another Broadway star.
And of course Season 3 of Unbreakable Kimmy Schmidt wouldn't be quite the same without the return of some legit fan favorites...
Tina Fey
In the first season, she was one of the attorneys presiding over the case against Reverend Richard Wayne Gary Wayne (Hamm), and during Season 2, she played Kimmy's therapist and Uber passenger, Andrea. Obviously we all loved night and even daytime Andrea, but Fey returning as a totally new character again would be kind of great.
Anna Camp
Camp played Jacqueline's socialite rival, Deirdre, during Season 2 and although she was kind of awful, it's like a love/hate thing that works.
Mike Carlsen
As seen in the promos for Season 3 of Unbreakable Kimmy Schmidt, even though Titus and Mikey seem to be broken up, Mikey is still going to be returning, so hopefully this is just a bump in the road for our favorite Kimmy Schmidt couple.
Josh Charles
At the end of Season 2, we met Duke, Jacqueline's new boyfriend's brother. Unfortunately he seemed more like her type than Russ and since he's coming back for Season 3, does that mean she'll be wooed by him?
David Cross
Even though Russ is apparently going to be away on business a bit, Cross will return to play Jacqueline's boyfriend whose family owns the Washington Redskins and he'll be on hand with her in her fight to change the team's name in honor of her Native American heritage.
Jon Hamm
As we saw at the end of Season 2, apparently Kimmy is legit married to the same reverend who kidnapped her 15 years ago and he's back in the picture for a divorce so he can get married again — while in prison.
Amy Sedaris
Can we all take a minute to celebrate the return of Mimi Kanasis? Jacqueline's super weird and totally sketchy BFF gives this show so much extra oomph I didn't even know I wanted.
Fred Armisen
In the trailer for Season 3 of Unbreakable Kimmy Schmidt, Lillian is seen breaking up with Bobby Durst, meaning Armisen's exit might come pretty early, but at the very least, he'll be there for a final appearance.
Season 3 of Unbreakable Kimmy Schmidt premieres on May 19 with new storylines and even more guest stars, but always with the quick-witted jokes that make the show good for several rewatches per season.