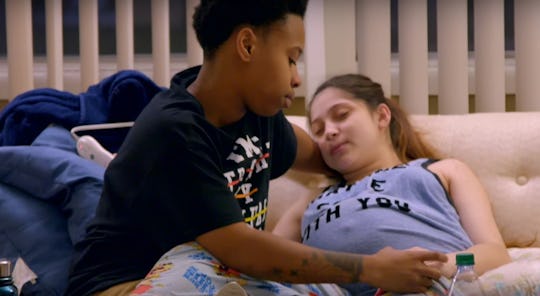 MTV
Brianna & Danae Have Faced A Lot Of Heartache On 'Teen Mom: Young And Pregnant'
One of the biggest parts of Brianna Jaramillo's story on the first ever season of Teen Mom: Young and Pregnant has been her relationship with her transgender boyfriend, Danae. Despite Brianna getting pregnant with her ex-boyfriend's baby, Danae agreed and even embraced the idea of co-parenting with her. But since their relationship has been anything but perfect on the show, fans no doubt want some updates on Brianna and Danae's relationship after Teen Mom: Young and Pregnant, if only to catch up with the two and see where they now stand.
Brianna's son, Braeson, was born in late August 2017 and although the show continued to follow her story after his birth, filming likely wrapped a short time after that. So in between the time filming ended and now, several months later, you have to wonder if Brianna and Danae are together or broke up once again for good.
The duo certainly saw their fair share of relationship troubles during Teen Mom: Young and Pregnant this season, which ended up taking a toll on both of them in equal measure and resulted in the couple deciding to split up. According to Brianna's Facebook profile, she's been dating someone named Robert Reams since at least January 2018, but since the first photo Brianna posted made it seem like they were a lot closer than two people in a brand new relationship, it could have started even earlier than that.
If there were photos of Danae on Brianna's Instagram or Facebook before their breakup, they've all been taken down. Although you can't really know what might have gone wrong in their relationship, it was clear on Teen Mom: Young and Pregnant that Brianna and Danae had problems from the start. Considering how young they both are, those problems were likely hard to work through much less address properly. At one point this season Brianna even admitted that an altercation with Danae had gotten so intense that she had to call the police, so chances are, things only got worse between them as a couple. To his credit, Danae seemed more than willing to take on the role of dad even before Brianna gave birth, but even so, that didn't necessarily guarantee that they could make the relationship work.
Brianna hasn't said much on social media in terms of how serious things are with her new boyfriend or what happened with Danae, but viewers can probably expect to see at least some of that play out by the end of the season, on the reunion show, or Season 2 (if there is one). Speaking of reunions, though, the moms of Teen Mom: Young and Pregnant did all meet in New York City in April and, judging by the photos on Brianna's Instagram, her boyfriend came along as well, so it must be pretty serious by now.
At the beginning of the season, Danae and Brianna seemed like one of those couples that just might make it, especially as they decided to stay together out of love rather than an obligation of parenthood. At one point, Danae even pointed out the benefits of him being Braeson's transgender father. "Me being trans, I can show him there is so much more to this world," Danae said early on in the season. But apparently their shared love for the baby and numerous times trying to make it work just didn't pan out the way they wanted. Hopefully they were at least able to end things on good terms.
Check out Romper's new video series, Romper's Doula Diaries:
Watch full episodes of Romper's Doula Diaries on Facebook Watch.