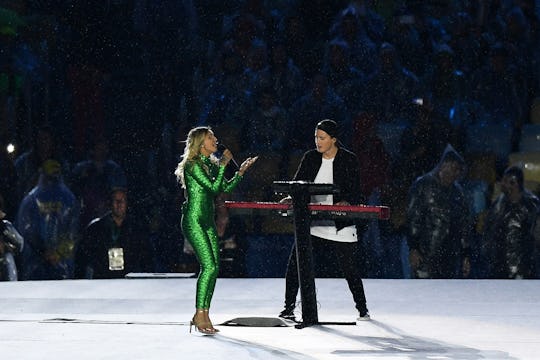 Pascal Le Segretain/Getty Images Sport/Getty Images
Video Of Athletes Dancing During Kygo's Closing Ceremony Performance Was Wonderfully Weird
The 2016 Olympics in Rio came to a close Sunday evening, making way for the 2020 Olympics in Tokyo, Japan. While the United States did extremely well during this year's Olympics, leading the medal count (121) and snagging the most gold medals (46), it wasn't without a healthy dose of strange. That strange seemed to carry itself into the closing ceremony, as a video of athletes dancing during Kygo's closing ceremony performance seemed to encapsulate the wonderful weirdness that was this year's Olympic games.
I mean, what else could put something as ridiculous as Ryan Lochte's antics into relative perspective, like a happy athlete attempting to do the robot on a gigantic screen in Maracanã Stadium, right? In all seriousness, the dancing and hugging between athletes was everything we needed to close out a week of fierce and often heartbreaking competition. To see how these athletes bond with another (whether it be teammates or individuals from vastly different countries) is nothing short of inspiring, especially as we continue to be bombarded with less-than-stellar news on a day-by-day basis. Sure, the Olympics have their moments, but when you stand back at look at all they accomplish, it's extraordinary. For 16 days, the world comes together to compete side-by-side, and that's something to marvel at. Even if it means watching a bunch of athletes dance horribly (and hilariously) on a giant screen while Kygo performs.
Here are just a few of the internet's reactions to the strange albeit delightful video, because who doesn't like horrible dancing, right?
Horrible dancing jokes aside, the video showed the true meaning of the Olympics: different people from different walks of life, living in different countries, coming together as one to compete. It's easy to forget just how incredible that really and truly is, especially amongst the recent controversy concerning Lochte and certain members of the U.S. men's swim team as well as allegations of a state-sponsored doping scandal that clouded much of Russia's ability to participate in this Olympics. But on Sunday night when viewers watched Olympians hugging one another and awkwardly dancing to music together, the true spirit of the Games was palpable.
And the somewhat-awkward-but-undoubtably-delightful dancing didn't end when the screen shut off. The athletes and closing ceremony performers danced well into the night, and even in the torrential rain, as the Olympics said goodbye to Rio and hello to Tokyo in 2020. Elaborate costumes and endless fireworks and, of course, the shirtless Tonga man all made appearances, giving us the Rio send-off we needed.