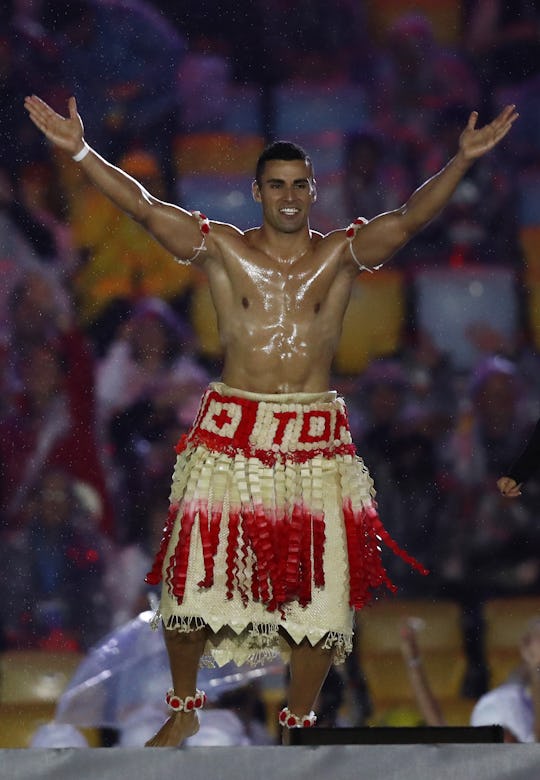 Ezra Shaw/Getty Images Sport/Getty Images
Tonga Man Returns For Closing Ceremony Because We All Needed A Proper Goodbye
The 2016 Olympics in Rio came to a close Sunday night, but not before one of the iconic athletes bid a final farewell to the world stage. After all, it wouldn't be right for "Tonga Man," 32-year-old Pita Taufatofua, to leave our collective memories without giving us one last shirtless, grease-covered goodbye. Yes, Tonga Man returns during the closing ceremony, which makes sitting through the closing ceremony absolutely worth it.
For those of you who may have forgotten (which is highly unlikely, because how in the world could you?) Pita Taufatofua, who represented his country of Tonga in Taekwondo, made waves during the opening ceremony when he entered the Maracanã Stadium shirtless, oiled up and ready to make a scene. Tonga had teased the entrance of Taufatofua because, well, they know what they're working with. All shameless sexualization aside, Taufatofua isn't just an incredible athlete, he has also been known to spend his time volunteering for charities and teaching young children Taekwondo. I mean, that's enough to make your head explode so, yes, the collective "we" that was the viewers of this year's Olympic games needed a proper Tonga send off. Anything less would have just been cruel.
Thankfully, Taufatofua and Tonga delivered.
Of course, Pita Taufatofua can do more than just stand on a stage sans shirt and (what I can only assume to be) a boatload of grease covering his body. He's no slouch in the world of Taekwondo which, of course, is why he was participating in the Olympics in the first place. Prior to Rio, Taufatofua ranked 157 in the world, and had an unfortunate pairing in the Olympics against Iran's Sajjad Mardani, who ranked second in the world. That's a tough break, my friends. Taufatofua lost in his first round, but he was able to continue to enjoy the Olympics courtesy of the somewhat surprising splash he made during the opening (and now, closing) ceremony.
So, sure, Tonga Man may not be taking any medals back to Tonga, but he can scour the internet and take back some very kind comments, if he feels oh, so inclined. Just take a look at how the internet reacted to his closing ceremony appearance:
There were some inspirational moments during the Olympic games in Rio, no doubt. We'll all look back and remember Simone Biles becoming the first female gymnast to win four golds in a single games. We'll all remember Phelps continuing to dominate the pool. We'll definitely remember Katie Ledecky's competition against, well, herself. And then, of course, we will remember Tonga Man, because some things just last forever.