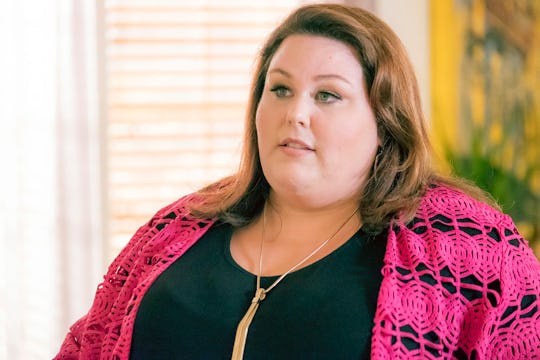 Ron Batzdorff/NBC
Videos Of Chrissy Metz Singing Proves The 'This Is Us' Star Has Real Talent
Most of the This Is Us Season 2 premiere focused primarily on the past and revealed a major clue about Jack's death. However, that wasn't the only storyline to get explored throughout the hour. Kate is doing everything she can to pursue her dream of becoming a professional singer. But how much of that talent filters down into the real world? Just in case fans had any doubts about her singing capabilities, allow these videos of This Is Us star Chrissy Metz singing prove just how skilled the actress truly is both on and off the small screen. In fact, Metz is just as talented as Kate on This Is Us, who is struggling, but pushing forward, with starting a singing career after spending years being too afraid to try.
For Metz, acting came as a first passion, but she's had vocal lessons in the past and has apparently always wanted to break into singing. Luckily, being Kate on This Is Us is going to enable her to do that as her character pursues a singing career of her own. Talk about art imitating life!
"I think [Kate's] got a little soul in her. She likes some throwback, Motown stuff," Metz told TVGuide. "I know for me, I love every genre of music. I'm excited to see where they're going to go with it." Even though Metz didn't drop any albums before landing the role of Kate on This Is Us, there are videos of the This Is Us star singing that show her talent was already there well before the popular NBC series premiered back in 2016.
And she definitely seems to have a passion for singing. "It's great if you hit all the perfect notes, that's great, but if you can't make anybody feel something because you're not feeling it, what's the point?" Metz told vocal coach Dot Todman (who was also her own coach) in a 2016 interview. Because Metz was a part of Dot's Voice Studios for the past several years, long before she became an Emmy and Golden Globe-nominated actress on This Is Us, she does have formal vocal training, but the videos of Metz singing don't even do justice for the This Is Us star's voice.
As fans have already seen on the show, Metz does have some legit singing capabilities, which may be part of the reason why the writers decided to have her character go this route. Creator Dan Fogelman talked to People about Metz's singing during a pre-Season 2 screening and seemed as excited as fans to get Kate's in-show singing career up and running. "She's awesome," he said of Metz. "She sings next week on the show and it's pretty awesome."
I don't know if "awesome" even sums it up though, because Metz could definitely have a singing career in real life too and I know a couple million This Is Us fans who would be more than happy to buy her first album.
Metz's TV mom, Mandy Moore, has already shown fans that starting a singing career isn't going to be so easy for a 30-something woman on This Is Us, though. Rebecca got lucky with a break for a multi-gig tour with her band, but it was cut short because of Jack's interference and even then, landing the part in the band was a lucky break since she'd already had ties to a band member.
For Kate, it's probably not going to be so easy, as shown in the Season 2 premiere when she auditioned for lead singer in a band and was rejected. Even so, fans were given another glimpse into Kate's singing voice and, in turn, Metz's. But since it was almost a blink and you'll miss it fragment of a scene, the videos of Metz singing outside of This Is Us prove that she does indeed have strong vocals that will undoubtedly be showcased more and more as the season progresses. I can't wait!
Watch Romper's new video series, Romper's Doula Diaries:
Check out the entire Romper's Doula Diaries series and other videos on Facebook and the Bustle app across Apple TV, Roku, and Amazon Fire TV.