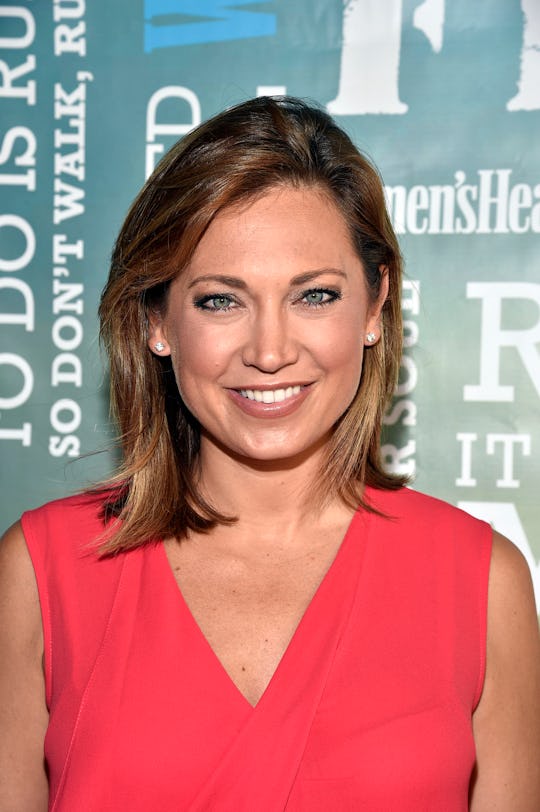 Bryan Bedder/Getty Images Entertainment/Getty Images
Videos of Ginger Zee On 'Good Morning America' Prove The 'Dancing With The Stars' Contestant Is The One To Watch
Ginger Zee, chief meteorologist on Good Morning America, made a fabulous debut on Dancing With The Stars, performing a lively jive number with partner Val Chmerkovskiy in a blue dress with sparkles for days. The new mom scored 23 out of a possible 30 points and some high praise from the judges. "Well the clouds parted, and a ray of sunshine appeared," Len Goodman proclaimed. Absolutely hilarious, Len (count this as just the beginning of the weather puns this season). So, is Zee the one to beat? Some old Good Morning America videos of Ginger Zee certainly seem to suggest that's the case. Though Zee has said that she does not have much formal dance experience (and has worked pretty darn hard to make up for it), a few past clips from GMA show she has at least dabbled. And, it's evident that she's got some moves.
Our first taste of Ginger Zee's dancing skills came from this 2013 segment in which she and co-host Bianna Golodryga do a pretty solid Carlton (made famous by previous Dancing with the Stars winner Alfonso Ribeiro). It's nothing special, but we do see a bit of promise in those "big arms" that Zee jokes about in the clip.
In another clip, this one from 2014, Zee gets some ballet lessons from three tiny ballerinas as they rehearse for their roles as mice in the Nutcracker. Zee's straight legs and good form hint at the spectacular dancer just waiting to burst forth. She says the hardest part was the mouse costume, but I've gotta be honest, the hardest part for me would probably be keeping my body so straight and pretty while being carried around by another person. Could she be a natural?
And earlier that same year, out of nowhere, Zee came out and stunned everybody with this fantastic, jazzy little routine with Derek Hough on Good Morning America's Ultimate Oscar Party. The smiles, the energy, the full-on whole-body commitment to every move no matter how silly. Yep, this lady's got it.
Based on the collected evidence, I would say it would be fair to just pack it all in and give the woman her trophy already. In addition to her evident natural dancing chops, Zee has some formidable work ethic and commitment. Beyond the grueling dance practices themselves, 35-year-old mom Zee has to take frequent breaks to pump, care for a months-old infant, keep up with a Good Morning America work schedule, and make weekly cross-country commutes from New York to Los Angeles to be on Dancing With the Stars. Forget the competition, let's elect her President. (If we're going to elect a TV personality for President, it might as well be somebody we can all respect.)