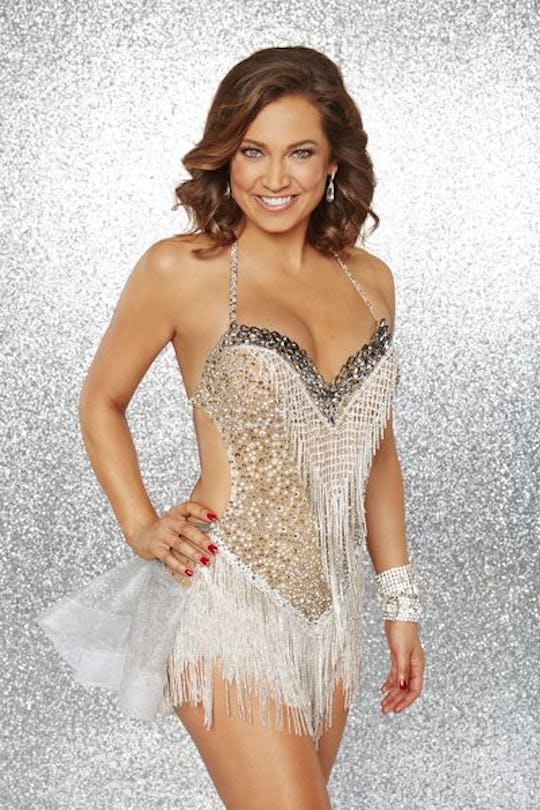 ABC
Ginger Zee Used A Breast Pump On 'Dancing With The Stars,' & It Was A Big Moment
The first months after having a baby are challenging for almost anyone, but Good Morning America meteorologist Ginger Zee has taken on extra challenge. In addition to being the weather person on one of America's two most popular morning shows, she's competing in season 22 of Dancing With the Stars. But maybe most remarkably, she didn't attempt to hide the physical juggle of new motherhood from either viewers or her dancing partner, Val Chmerkovskiy. Ginger Zee's comment about breast pumping in the first episode of DWTS gave viewers a small glimpse into what it's like to be a breastfeeding mom with a career that takes you away from your baby, and that no woman should feel ashamed of that or feel obligated to hide it.
As usual, before Zee's performance, DWTS featured behind-the-scenes footage of her preparation and rehearsal. Zee, 35, has been flying back and forth between New York, where she lives with her husband, NBC news correspondent Ben Aaron, and 3-month-old son, Adrian, and Los Angeles, where DWTS is shot, according to People. Since Zee is breastfeeding and working at GMA when she's in New York, she is spending a lot of time with her breast pump. So it makes sense that she needed to take breaks from DWTS rehearsals to pump. What's important is that she allowed the camera crew to capture the way breastfeeding and pumping demands that you stop whatever you're doing, even if it's rehearsing for a primetime television dance competition. The pre-recorded rehearsal segment showed Zee telling Chmerkovskiy that her boobs felt like they were going to explode, and did he mind her pumping in the corner of the studio? He didn't, and so she did. You could see her facing the corner making the motions of attaching the pump to her boobs.
That might not seem like a big deal to someone who has never pumped, but if you're a woman who has used a breast pump to enable you to work and also produce milk for your baby, this is huge. Because it's honest about the demands that breastfeeding in general and pumping specifically place on women. It's an acknowledgment that for almost any working woman, breastfeeding means hooking yourself up to a machine, and that's rarely convenient or comfortable. And it's proof that deciding to do that for your kid doesn't mean the end of your career or opportunities. It was a tiny moment, but it was huge.
Of course, as Zee noted, she has help — a supportive partner and coworkers who were cheering her on. (Robin Roberts and Amy Robach even made the trip to L.A. to see Zee's first dance.) Many working women have no such support system, and we know that having that system is crucial to sustained breastfeeding. But still, seeing an accomplished person like Zee refuse to hide her pumping like it's something gross or shameful was great for women of all backgrounds trying to feed their kids. It's scenes like these that normalize breastfeeding (and Chmerkovskiy being unphased by it was a significant part of that). Dancing With the Stars has millions of viewers, and before Monday, some of them possibly weren't even aware that breast pumping is a thing, much less how often it needs to be done. Now they know.
After the rehearsal footage aired, of course, Zee went on to deliver an absolutely phenomenal performance that revealed that, in addition to all of her other accomplishments, Zee can dance, too. That sound you hear is all the women watching DWTS while they pump cheering at their TVs.