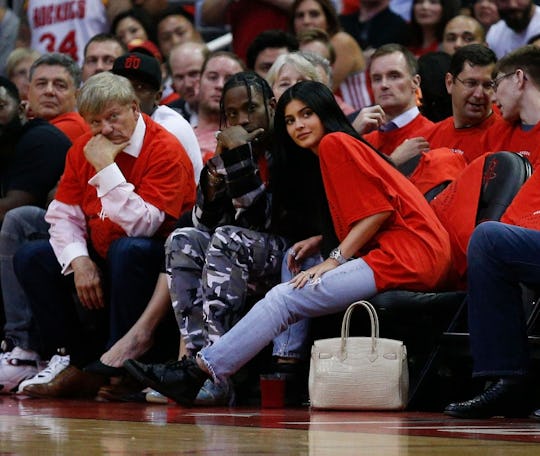 Bob Levey/Getty Images
Was Kylie Jenner's Pregnancy An Accident? She's Reportedly "Thrilled"
Every Kardashian fan anywhere was riveted Friday by the news that Kris Jenner's youngest child, Kylie Jenner, is reportedly pregnant. Fans naturally had loads of questions, from Jenner's due date to the sex of her baby, but one of them was, not surprisingly, Was Kylie Jenner's pregnancy an accident? It's not an unreasonable question (although also not the most polite one). (Romper reached out to both Jenner and Scott's representatives but has yet to hear back.)
Jenner is young — just 20 years old. According to the National Center for Health Statistics, the average age at which women have their first child in the United States is 26, so Jenner is on the younger end of the spectrum. Also, she hasn't been in her current relationship very long. People reported that Jenner's boyfriend, Travis Scott, is the baby's father. He and Jenner have only been dating since April. Of course, Jenner can have a baby at whatever age she wants, and she does not need to be in a relationship, much less be married, to do so. Earlier this year, news broke that Mindy Kaling is having a baby on her own, and People reported that she has no plans to tell anyone who the father is, and Kaling is just the most visible example of the many unpartnered women who opt to go ahead with their pregnancies each year.
Jenner and Scott are actually very excited about the news, according to People. According to one of the magazine's sources, Jenner "is the happiest she's ever been" and Scott has been telling friends about the pregnancy since July because he just can't help himself. TMZ also said that Scott was eager to tell friends, even offering the unconfirmed report that Scott told people the baby is a girl.
Jenner "wants to be a mom," People's source said, which is certainly in line with things Jenner has said about motherhood in the past. In January 2016 on an episode of Keeping Up With The Kardashians, she told her father, Caitlyn Jenner, "I feel like 30 is too late!" to have kids, Us Weekly noted. Last year on her app she told her best friend, Jordyn Woods, "I keep a list in my phone of names I like for my future kids," according to The Mirror, and in October 2016, she said in a Snapchat video, "I'm getting a lot of questions about kids. How many kids do I want? Do I want kids? And I do want kids, but not now," Life and Style reported.
That "not now," however, is the sort of comment that leads fans back to the question of whether or not Jenner planned this pregnancy. For someone who has shown so much interest in having children of her own, it wouldn't be that surprising if she had. On the other hand, Jenner is young and has plenty of childbearing years ahead of her. It's fairly unusual for someone barely into her twenties with such a robust career to choose parenthood at exactly that moment.
The answer seems to be that the pregnancy was, indeed, an accident, but a happy one, at least according to People. "Kylie was really surprised but is so happy," the magazine's source says, which, again, makes sense in terms of what Jenner has said about motherhood in the past. And fortunately, she has a very, very big support system. Her family has reportedly known for a while, so presumably she has had several veteran parents in the form of her sisters Kim and Kourtney and also her mother, Kris, to answer any questions and help her over any hurdles. Jenner and Scott aren't celebrating this news alone.
Watch Romper's new video series, Romper's Doula Diaries:
Check out the entire Romper's Doula Diaries series and other videos on Facebook and the Bustle app across Apple TV, Roku, and Amazon Fire TV.