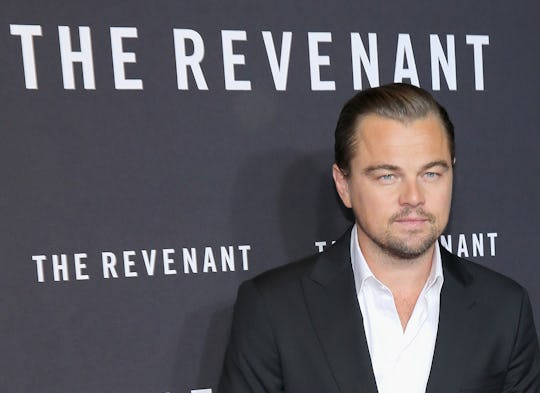 Was Leonardo DiCaprio Nominated For An Oscar? 'The Revenant' Actor Earns His 6th Nomination
Could this be Leo's year? On Thursday morning, Leonardo DiCaprio was nominated for an Oscar, marking the sixth time the actor's name will appear on the Oscar ballot. The 41-year-old received the Best Actor nomination for his work in The Revenant, where he plays legendary huntsman Hugh Glass who must battle the elements to make it home to his family and get revenge on the men who left him behind. DiCaprio recently won the Golden Globe for Best Actor In A Major Motion Picture - Drama for his portrayal of the 1800s huntsman, leading many to believe that this may be the year he takes home the Oscar.
But true fans of the '90s heartthrob know not to get their hopes up too quickly. First off all, there is DiCaprio's Oscar history to consider. The actor has been nominated for an Oscar on five separate occasions — four times for acting and once for his role as a producer in The Wolf of Wall Street. And every year he's lost. And though fans may think the outcome at the Golden Globes predict the Oscar winners, that hasn't been the case for DiCaprio. In 2005, DiCaprio won the Golden Globe for Best Actor In A Major Motion Picture — Drama for his work in The Aviator. He went on to earn an Oscar nomination for the same role, but lost to Jamie Foxx.
Then there's his competition. DiCaprio is sharing the ballot with some of Hollywood's heavy hitters, including 2015's Best Actor winner Eddie Redmayne, who was nominated for his portrayal of transgender pioneer Lili Elbe inThe Danish Girl. But ultimately, DiCaprio does not care about winning an Oscar this year, or ever for that matter. In a recent interview with Today, DiCaprio said it would be nice to win an Oscar, but it ultimately isn't what makes him happy as an actor.
I think anyone appreciates those types of things for sure — to be recognized by your peers . But — I know it's a cliche — but the truth is it's ultimately into why you do these films. You do them because if love the art form and cinema to me is the great modern art form, you can look back one day day and say, 'I did that piece of work and I gave it everything I could while I was there.' If you have enough of those later on in life, you're a happy artist.
So will this be the year DiCaprio finally brings home the statue? You'll have to tune in on Feb. 28 to find out.
Images: Neilson Barnard/Getty