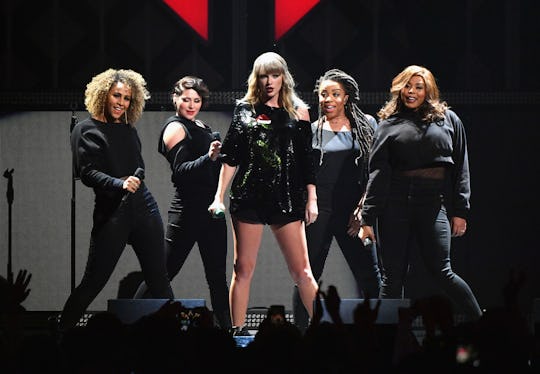 Dia Dipasupil/Getty Images Entertainment/Getty Images
This Is Why 'Reputation' Won't Receive Any Love At The 2018 Grammys
The Grammy Awards is the music industry's biggest night, so getting nominated is considered to be a high honor. Which is why some people may be wondering: was Taylor Swift's Reputation nominated for a Grammy this year? I'm sorry to tell you, that it was not. However, Swift is up for two awards that evening, but neither of them have anything to do with her comeback album released in November. The nominations are for Best Country Song, for "Better Man," and Best Song Written For A Motion Picture, for "I Don't Wanna Live Forever." So what was so bad about Reputation that the Recording Academy didn't think to include at least one performance from the album?
You can take a deep breath and hold off on any angry tweets: It wasn't a snub. In fact, there is a very legit reason that Reputation wasn't nominated. The album didn't meet the time requirements for the 2018 awards show. As mentioned, Reputation was released in the middle of November and only albums released between Oct. 1, 2016, and Sept. 30, 2017 were eligible to be considered. So she was just a few months late, according to the official Grammys website.
It's not like she didn't know that she would be missing the chance to be nominated this year, so the timing of the album was probably intentional. This way, she'll have a chance to top all the Billboard charts between now and next September.
So does this mean that Swift will be a no-show to the 2018 Grammy Awards? As of now, it remains unclear whether or not she'll be attending. Swift didn't go to last year's Grammys since none of her work was eligible for a nomination, giving her little reason to attend. And while it's true that Reputation won't be receiving any love on Sunday night, her other nods may prompt her to make an appearance. At least, I hope so.
Swift's career was made, in part, by her Grammy recognition. In 2007, she was nominated for Best New Artist and lost, but she made it up in 2009 with four wins for her Fearless album, including Album of the Year and another four nominations for You Belong With Me.
In 2015, 1989 took home Best Pop Album and Album Of The Year, along with Best Music Video for "Bad Blood." Overall, she's been nominated for 31 awards and taken 10 home. That's not too shabby, so I don't think she's stewing because her album missed the deadline to be considered this year. However, "Look What You Made Me Do" was released in August, so it could have been included in a single category, much like "Shake It Off," which was on the 1989 album, was nominated in 2014.
It was the same situation about timing that led to her being recognized both years. So it's hard to tell if this year is all about being the "new" Taylor and not showing up for the establishment or just that she only walks the red carpet when she's up to win big during the night. The truth is, it's probably a little bit of both.
There hasn't been any confirmation from the singer about whether or not she will be showing up at Madison Square Garden on Sunday night. But her tour starts in May and given the intensity of the schedule, she may want a quite evening in to help mentally prepping for that. Swift would definitely be missed at the Grammys this year if she doesn't go, but given the success of Reputation so far, I have a feeling she'll be all over the awards, and serving up more iconic red carpet looks, next year for sure.
Check out Romper's new video series, Romper's Doula Diaries:
Watch full episodes of Romper's Doula Diaries on Facebook Watch.