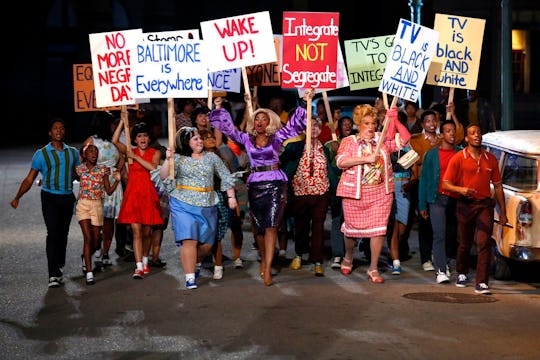 NBC/Justin Lubin
Was Tracy Crying During "I Know Where I've Been" In 'Hairspray Live!'? Twitter Thinks So
There weren't too many surprises with the song list for Hairspray Live! and most fans already knew plenty of the lyrics, but that doesn't mean that some of the numbers didn't being the feels for everyone. And this includes the cast of the live performance. While the breathtaking ballad played, was Tracy crying during "I Know Where I've Been" in Hairspray Live!? Twitter seems to think so. And Twitter is just as emotional as the cast during Hudson's rendition of the slower Hairspray Live! song. Most of all, instead of truly slowing things down, Hudson's version of the spell-binding ballad but made the rest of the live musical all the more relevant and important going forward.
Along with body positivity and acceptance, race is a huge part of Hairspray Live! (as well as the movie and the Broadway play) and with Hudson singing "I Know Where I've Been" as Motormouth Maybelle, the song carried much more meaning to it now than ever before. As Maybelle, Hudson was singing about acceptance, both for herself and everyone around her. The song focused on working hard to achieve equality despite everything the characters have gone through. And now, not only is the song relevant, but the cast obviously felt it too, as Maddie Baillio (who was playing Tracy) was spotted crying in the background while Hudson thundered on. And yes, viewers were crying along with her. Hudson's performance as Motormouth is part of what drove Hairspray Live! Wednesday night, so how could you not?
Hairspray Live! didn't completely win over fans of the original movie, but Hudson helped propel the special, mainly with her rendition of "I Know Where I've Been," and for good reason. It's relevant and emotional without being a ballad that seems drawn out and makes you want to fast forward to one of the faster, more upbeat songs. And it actually means something, which is hard to find in a musical airing on television and working hard to appeal to a broad, diverse crowd. Tracy was definitely crying during "I Know Where I've Been," but if you want to blame your own tears on someone cutting onions in the same room, then that's OK too.
During all of Hudson's songs in Hairspray Live!, the singer absolutely killed it, belting out the lyrics to the more upbeat "Big, Blonde, and Beautiful," which was a good contract to the racially charged "I Know Where I've Been." In real life, Hudson is a Grammy Award-winning artist, so her ability to perform in Hairspray Live! was never a question, but the kind of feels she brought out when singing weren't totally expected. If she can make her fellow castmates cry on live television, you know you were shedding some emotional tears at the sound of her soulful voice as well.