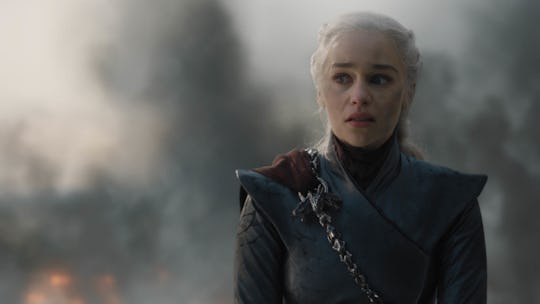 Season 8, episode 5 (debut 5/12/19): Emilia Clarke. photo: HBO
These 13 Common Parenting Phrases Come In Handy When Watching 'Game Of Thrones'
Spoilers ahead for Game of Thrones Season 8. After Sunday's episode of Game of Thrones, "The Bells," I don't even know what's going on anymore. Black is white, up is down, right is wrong, Daenerys has gone off the rails in the span of two episodes. Friends, I am shook. I found myself blinking in irritated confusion throughout the episode and, to be honest, it took me to the same emotional place I go when parenting leaves me feeling betrayed and angry. So it should come as no surprise that when you're watching Game of Thrones Season 8, the things you've said to your children are definitely going to come in handy... specifically when the credits are rolling and you're left dumbfounded, angry, and at an otherwise loss for coherent words.
Some will argue that the disheartening and unexpected outcomes in "The Bells" made perfect sense. Game of Thrones has never been about expected outcomes or wish fulfillment. I mean, remember how Ned was beheaded? Remember the Red Wedding? The show is famous for twists we never see coming. And I'm really fine with that. (Like, from a narrative perspective, because emotionally I'm still not over Ned.) But until now, pretty much all of the big, gasp-worthy moments made sense based on painstaking character development that had been constructed and cultivated over seven seasons. The conclusion of "The Bells" was based on sudden character changes that might have made sense had they been built over time, but were rushed for a splashier, hurried final season.
Kids do this, too. All the damn time. They're generally not even doing these things for shock value or even on purpose, though. They're just little weirdos. Nevertheless, the perplexed, exasperated sensation I feel as a parent to my children and a fan of Game of Thrones is often the same.