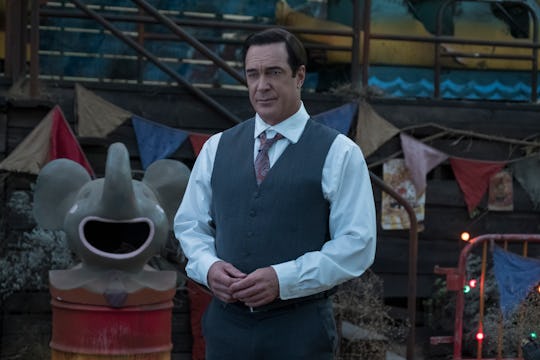 Eric Milner/Netflix
'A Series Of Unfortunate Events' Season 2 Will Explore Count Olaf & Lemony Snicket's History
A Series of Unfortunate Events returns to Netflix for Season 2, which is believed to cover books five through nine in the series, tracking the Baudelaire children over the course of their time at Prufrock Prep. In the final moments of Season 1, just as they arrive at their new school, we see a photo of a couple of prominent alumni posing for the camera: the series villain Count Olaf and its narrator Lemony Snicket. So were Count Olaf and Lemony Snicket friends? They share several connections but most of them are addressed in spin-off books from the ASOUE series. Warning: book spoilers ahead!
We know that Olaf and Lemony have fallen out since the photo, in which they appear to be friendly, was taken. They both openly show disdain for one another, even though they never cross paths in the world of the show. (Lemony narrates while Olaf is a part of the action.) We can assume that they were both a part of the mysterious V.F.D. society which the Baudelaires' parents, Aunt Josephine, Uncle Monty, and other characters were also a part of. But what else is there to their relationship? In the 13th and final book in the series, aptly titled The End, we learn that Olaf had an affair with Lemony's sister, Kit Snicket. But wait, there's more.
We eventually learn that the "Beatrice" to whom Lemony writes so fondly is the mother of the Baudelaire children. Given the assumption that Olaf killed the Baudelaires, it's not hard to see why Lemony might hate him. It's all very Snape/Lily/Voldemort. Then, there's the fact that Olaf is believed to be a distant cousin of the Baudelaires, although it's not clear whether he's related to their mother or father. So, ostensibly, Olaf and Lemony were both in love with members of each other's families. There's also a mysterious "O" on the Snicket family tree in the companion book Lemony Snicket's Unauthorized Autobiography, which suggests Olaf may also be related to the Snickets somehow. Finally, in The End, Kit hints that she and Lemony once snuck the Baudelaire parents a box of poison darts, which just so happens to be the murder weapon in the deaths of Olaf's parents. So Olaf and Lemony are pretty deeply connected, with ample reason to hate each other.
A second companion book titled The Beatrice Letters reveals that the mysterious V.F.D. organization stands for Volunteer Fire Department. Yes, the Baudelaires, Monty, Josephine, Lemony, and Olaf were all once training to be volunteer firefighters together. There was eventually a split amongst the group in which one faction decided to devote themselves to fighting fires while the other dedicated themselves to starting them. (Hence, the series' arson motif.)
But what precisely happened between Olaf and Lemony remains a mystery, as does how or even if Olaf is related to both the Snicket and the Baudelaire families. We also don't exactly have a relationship backstory for Olaf and Kit or Lemony and Beatrice. How did Beatrice end up with Mr. Baudelaire? Was Olaf somehow involved in why Lemony and Beatrice didn't work out? Did Lemony have feelings about Olaf being with his sister? And what's the timeline on Olaf's parents' murder? Why would Kit help kill her lover's parents, if that's indeed what happened with the poison darts?
So even though a lot of questions get answered when you look at the broader Lemony Snicket universe, a ton remain unanswered. We'll see how many loose ends the Netflix series opts to tie up.
Check out Romper's new video series, Romper's Doula Diaries:
Watch full episodes of Romper's Doula Diaries on Facebook Watch.