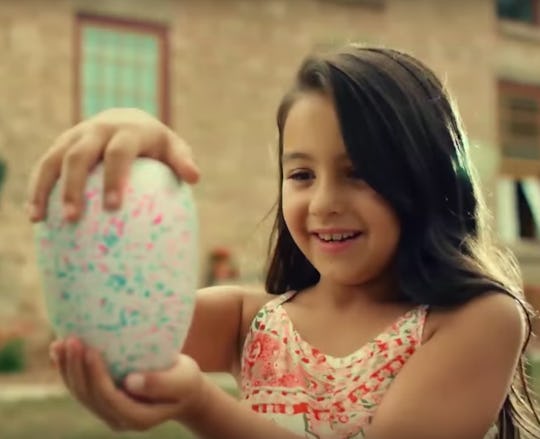 What Ages Are Hatchimals Appropriate For? They're Holiday Season Must-Haves
Tamagotchis and Ferbys flew off the toy store shelves and enthralled us a generation ago, and now those sold-out must-haves have been replaced with the newest craze. Except Hatchimals haven't spent much times on the shelves, either, meaning that adults who want to get ahold of these interactive "pets" may have to shell out some serious cash to gift them to lucky kids this holiday season. And because Hatchimals are appropriate for ages 5 and up, there may be some first-graders out there whose Christmas or Hanukkah gifts are worth a small fortune.
The new Spin Master toy first went on sale in early October, retailing for $59.99 each, and they truly are a heightened hybrid of a Ferby and a Tamagotchi. The fuzzy creatures are sold inside an "egg" that "hatches" when a child plays with it for about half an hour. The Hatchimals will be born as either a Pengualas, Draggles, Burtles, Owlicorns, or Bearakeet "species" — the latter three are available exclusively at Walmart, Toys "R" Us, and Target, respectively, according to TIME — and they'll sing a rendition of "Hatchy Birthday" as a greeting, as well.
But before kids ever have the opportunity to see their Hatchimals grow from babies to toddlers to adults, they need to get one. And that's the challenge, because they're seriously sold out.
They're so hard to come by, in fact, that some non-authorized internet sellers are jacking up prices like crazy: Time magazine reported that some listers were hawking them for as much as $150 per Hatchimal, and one even asked for $20,000 for 14 of them. On legitimate third-party marketplaces like Amazon, they're going for as much as $200 to $350 per toy.
But Spin Master is on it, featuring an alert on the official Hatchimals website that promises that the company is working to ramp up supply to meet demand:
...While additional product will hit retail shelves in November, we anticipate this inventory will also sell out quickly. We have increased production and a whole new batch of Hatchimals will be ready to hatch in early 2017. This is a special season and we don't want anyone to be disappointed, nor do we support inflated prices from non-authorized resellers. We are working on creative solutions to help kids and their parents withstand the wait. In the interim, some retailers are developing pre-sale and/or rain-check programs for redemption in January. We will continue to update with program details as they become available.
As with any crazy popular toy for youngsters, sometimes the reality of Hatchimals doesn't meet expectations, making for a frustrating situation for parents who shelled out major cash to get it. One mom in the United Kingdom authored a viral Facebook post shortly after her daughter opened the toy, writing that it grew up from a baby to an adult in just a few hours and that the games it played were "boring." More positive reviews of the product report that Hatchimals are easy to incorporate into play with other toys, according to The Huffington Post.
It's certainly tough to spend hundreds of dollars on a product that a 5-year-old will tire of almost immediately, but many parents are willing to do it. Others might wants to explore some alternative options, like the original Ferby, at least until Hatchimals supply catches up with the demand.