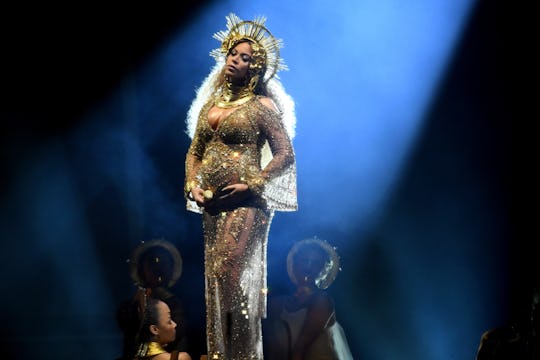 Kevork Djansezian/Getty Images Entertainment/Getty Images
What Are Beyonce's Twins' Net Worths? They'll…
Since the news broke that the world's most famous female recording artist had her much-anticipated twins, fans naturally want to know every last thing about these babies. That includes Beyoncé's twins' net worths, of course. It's no secret that any offspring of Jay Z and Beyoncé is coming into the world on pretty sound financial footing. According to a CNN report in May, the couple are together worth over $1 billion. But what exactly does that mean for their children, both Blue Ivy and the new additions?
To understand how Jay and Bey arrived at that astronomical number in their proverbial bank accounts (as Forbes reported, non-liquid assets account for much of Jay Z's wealth), take a look at all the number of projects and investments they're involved in. In addition to his own musical success and status as one of the most powerful hip hop producers, Jay Z has a new 10-year deal with Live Nation for festival events, is an investor in multiple startups, has several companies, and owns a significant stake in the streaming service Tidal, which now has a valuation of $600 million, according to Vanity Fair. Not to be overshadowed, Beyoncé is worth $350 million, thanks in part to her 2016 Formation tour that brought in around $250 million. Yes, music's ultimate power couple has stratospheric level assets, but they have earned them through an insane amount of hard work and endless dedication, and they own that. Beyonce once told Forbes, "I've never met anyone that works harder than me in my industry."
So how much are the couple's twins worth? Well, considering that they are days old and their parents are very much alive, zero. But in an impossible-to-fathom universe in which their parents were no longer here (Universe, let's pretend I never even wrote that), you'd divide that $1.16 billion by three. Yup, don't forget Blue Ivy, whose potential net worth definitely took a hit this week. If they received an inheritence now, before estate taxes, Blue and each of the twins would be worth $386 million. Of course, if the babies, say, launched a lucrative and no-doubt exclusive infant clothing line, or went on a world tour of their fabulousness with their sister and/or aunt or any other family member, that number would go up. But even without going into business before their first birthday, they're in pretty excellent shape financially. Not bad, kids.