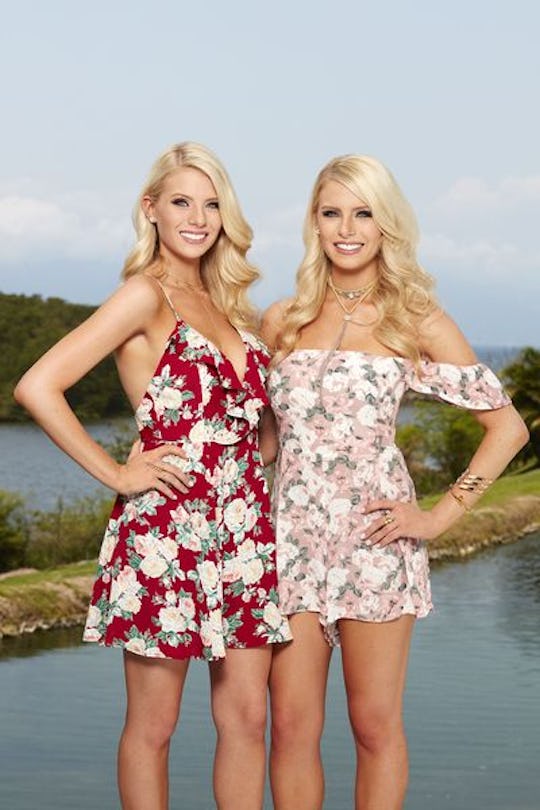 ABC/Craig Sjodin
What Are Emily & Haley Up To Since 'Bachelor In Paradise'? They're Twins For A Living
I would have never considered being a twin to be a full-time job, but according to Bachelor in Paradise stars and resident twins, Emily and Haley Ferguson, it's totally a thing. Since competing on Season 20 of The Bachelor, the twins have been a package deal, and so far this season it hasn't been any different. So what are Emily and Haley up to since Bachelor in Paradise? There has never really been an occupation listed for either of them, instead opting to go by the collective title of The Twins, much like Daniel from Season 12 of The Bachelorette has been given the moniker of The Canadian. But in Haley and Emily's case, they've made careers out of being twins.
Since Bachelor in Paradise, Haley and Emily have furthered their brand based on the fact that they are young, blonde, fun, and twins. Some might say they're "twinning" at life right now, but we really don't have to go there. Aside from being models in their own rights, the twins make regular appearances in Las Vegas hotels and clubs as a pair and can even be booked for events (hopefully as Professional Twins), as listed on both of their Instagram accounts. I'm not sure if that was a thing before, but if the women can make careers out of it, then more power to them, right?
Since Bachelor in Paradise, Haley and Emily Ferguson have been as bubbly and present in social media as ever. But don't sell them short, because they obviously know how to keep themselves in the spotlight even when they aren't filming anything in Bachelor Nation.
They've Been Modeling Together
It's really no surprise that Haley and Emily have been modeling because that's what beautiful people from The Bachelor and The Bachelorette do these days. But as The Twins, they've been doing modeling together, which is twice as fun!
They've Made Being Twins Their Job, Literally
You can book Haley and Emily Ferguson as a duo for whatever appearance you need them for. To date, they've been big on night club appearances, mainly in Las Vegas, and steadily so. Somehow, they have managed to become more than just a gimmick on The Bachelor and Bachelor in Paradise, but sought after masters of fun and good times. I mean, it's not the worst business model in the world.
They Been Working On A Lifestyle Blog
Along with mutual best friend, Mace Camp, Emily and Haley run a lifestyle blog that also includes YouTube videos on anything from hair styling tutorials to answering fan questions. It hasn't seen much new content in the past couple of months, but it does prove that the twins are keeping busy in their professional lives, away from Bachelor Nation and reality TV in general.
At this point, if neither or Emily or Haley find love on Season 3 of Bachelor in Paradise, I'm calling sham on the whole thing. Obviously both of the twins have a lot to offer in terms of their humor and energy that never seems to wear out. Maybe they can do some kind of double Bachelorette season in the near future? Are you listening, ABC?