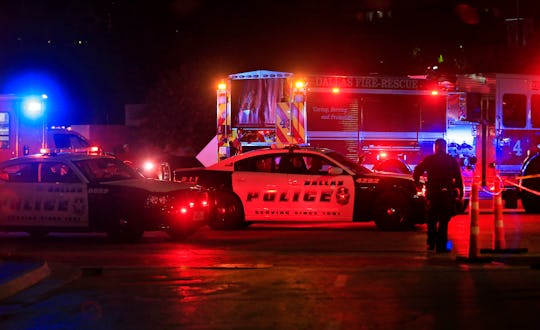 Ron Jenkins/Getty Images News/Getty Images
What Are Texas Gun Laws? The State Has Fairly Lax Legislation
Update: Authorities have identified the deceased suspect as Micah Zavier Johnson, 25, an Army reservist with no criminal history or ties to terror groups.
During what was supposed to be a peaceful protest against police violence, multiple officers were shot in Dallas, Texas later Thursday evening. The incident, which has left at least five officers dead, has many wondering what are the Texas gun laws and could stricter rules have kept this event from happening.
According to initial reports from CNN, 11 police officers were shot at the downtown protest against police violence, making this the deadliest single attack on law enforcement since the September 11 terrorist attacks. Additionally, NBC News reported that at least two snipers first fired shots around 9.m. CT, after which Downtown Dallas was placed in lockdown. One of the alleged gunmen was found in a nearby parking garage, and engaged in a three hour standoff a local SWAT team, according to the The Washington Post. That suspect died at the end of the shootout, while three others are in police custody.
Protestors were walking to support the lost lives of Alton Sterling and Philando Castile, two black men who were unjustly shot and killed by police officers in Louisiana and Minnesota, respectively. The protest had been a peaceful event until the shots were fired, making the actions even more upsetting and unnecessary. In a statement to the press, President Obamas called the Dallas shooting a "viscous, calculated despicable act," and said the "senseless murders" and slaughter of five police officers by suspects using sniper rifles was a "tremendous tragedy" for our nation.
But is it a tragedy that could have been prevented by stricter gun laws? In light of the shooting, as well as the CDC reported 3,000 gun-related deaths in Texas yearly, many may be rightfully wondering what are the Texas gun laws. And, they may not be surprised to learn that they are fairly lax. Despite federal laws that require federally licensed firearms dealers to conduct background checks on anyone purchasing a firearm, Smart Gun Laws noted that Texas does not require private sellers to initiate background checks. Additionally the NRA website wrote that, in Texas, a state license is not required to possess a rifle, shotgun, or handgun. According to the site, the only restrictions on firearm possession is if someone was convicted of a felony or a Class A misdemeanor involving the person's family or household.
So would stricter gun laws prevent tragedies like this from happening? Maybe yes, maybe no. Would is decrease the number of tragedies that occur. According to the site Gun Policy, total number of gun deaths in the United States increased from 30,242 to 33,563 between 2002 and 2012, But in Germany, where the gun laws are much more strict, total number of gun deaths in Germany decreased from 1,061 to 819 in that same time span. It has to make you wonder, right?