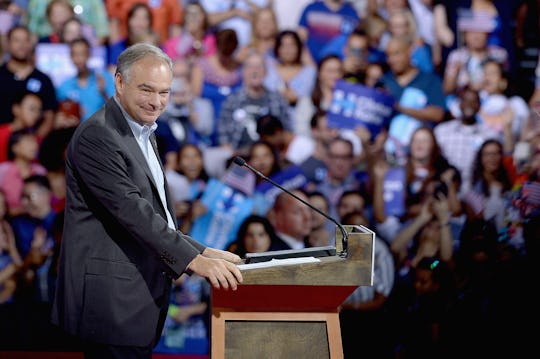 Gustavo Caballero/Getty Images Entertainment/Getty Images
What Are Tim Kaine's Views On Paid Family Leave? He's Supported Similar Causes
The Democratic National Convention kicks off on Monday evening and ever since Hillary Clinton named Tim Kaine as her running mate, many might be trying to catch up on where exactly the Virginia senator stands on the issues. One important question mothers and their families might be wondering: What are Tim Kaine's views on paid family leave? This year's presidential candidates have already take a firm stance on the issue and publicly debated paid maternity, paternity, and family leave.
Clinton has always supported paid leave — her plan would ensure paid time off for all employees to take care of a newborn or a sick family member — and Kaine's previous campaigns have focused heavily on women's issues and just last month he backed legislation for more accessible and affordable childcare.
Even before Clinton announced her VP choice, Kaine was widely considered to be one of the safest, most appealing, and least controversial names on the list. He's fluent in Spanish, comes from a working class family, and has even gotten President Barack Obama's stamp of approval, back when Kaine made it on Obama's VP shortlist back in 2008 and again when Obama gave Clinton advice on a running mate.
Kaine hasn't spoken strongly recently on the issue of paid family leave. But his prior campaigns and work towards similar issues as well as the fact that he's now Clinton's right hand man, it might be a safe bet that he's #WithHer when it comes to this.
One reason to believe Kaine may be making steps towards taking a firm stance on paid family leave is the legislation he supported in June 2016 that would make quality childcare more affordable and accessible for working parents in several cities across Virginia. He, along with fellow Virginia Sen. Mark R. Warner, backed a $4 million grant from the U.S. Department of Labor that would be used to help working parents give their children quality childcare. The funding was intended for parents to be able to work while continuing their education and taking part in training programs with the ultimate goal for them to be able to compete for better-paying jobs.
"This is a long-term investment in the Roanoke Valley," both senators wrote in a press release in June this year. "When lower-skill, working parents have the opportunity to access affordable child care, they can go out and get skills and training that will allow them to get better-paying jobs and provide a better future for their children."
Kaine's name will be much more well known after the first night of the Democratic convention, and so will his stances on certain issues. As a developed country, the United States is seriously behind the rest of the world when it comes to paid family leave and perhaps Kaine's new platform will bring him an opportunity to tell voters what he would do for families if he becomes the next Vice President of the United States come November.