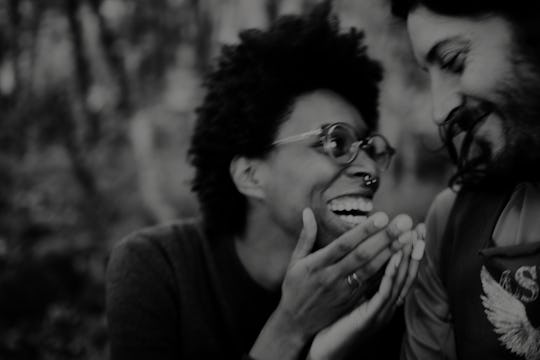 Courtesy of Margaret Jacbosen
What Being In A Serious Relationship After Divorce Has Taught Me
Dating in my late 20s has been so different than dating in my teens, which was the last time I dated before I was married. Now that I'm divorced, dating as a single mom in my late 20s is an entirely different beast. But being in a serious relationship as a single mom has taken so much patience and flexibility — patience and flexibility I didn't know I had. I never realized how important trust — not just between my partner and me — would be, especially for my children. Despite only seeing single mothers portrayed on TV and in movies as frumpy, over-worked women only a deeply kind, "good" person could find hot and appealing, I was totally surprised (and thrilled) when I realized that just because I was a single mom didn't make me any less desirable. In fact, it made me more appealing to the right kinds of partners.
I've only been in love about three times: with my first boyfriend, my ex-husband, and with a man I met while I was with my husband. I can describe each of those loves very perfectly: with my first boyfriend, it was naive and all-consuming; with my husband, it was instantly, unbelievably love at first sight; and when I fell in love with my third partner while I was still married to my husband, it was a different kind of love: fast, overwhelming, and fueled by passion. After my husband and I divorced, I assumed that dating as a single parent wouldn't give me any of those things. I had all these preconceived notions and ideas, like that I'd used up all the "great loves" allotted for my lifetime and that I'd only have mediocre partners from here on out, or that I'd thrown away the best loves I'd ever known. I was nervous to branch out into the dating world, and because of it, I swore off serious partnerships. People warned me that my past relationships and my kids would serve as red flags for potential partners. So I readied myself for a tumultuous journey, terrified of what would come.
I'd been single for about six months when I finally did meet someone. His name was Noah, and he brought an endless gratitude out of me, one I don't think existed or that I even possessed. I just assumed he was just way too good to be true. His love surrounded me, lifted me up, and guided me. I didn't even realize a love like that was possible for anyone, least of all me, a single mom.
I had all these plans in my head for how all of our lives would go, not realizing we were all different people who all wanted different things.
On our first date, Noah met my kids. He'd brought his roommate's kids along, because their mom had just had a bicycle accident, and he'd asked if I would bring my kids since he was babysitting them. It was totally unconventional and unplanned, but I thought it'd be fun. From that moment on my kids have known about Noah. They didn't realize we were dating, necessarily, but they knew he was someone close to me. After we'd been together for six months, I told my son and my daughter that Noah was my partner, someone I loved, and someone who loved me. My youngest didn't seem to care that much, but my daughter (who's older) was really excited — she'd grown incredibly fond of Noah over the past few months and hearing that he was someone who's presence held value in my life helped her work through how she felt about him too.
But bringing Noah into the fold wasn't exactly easy. Honestly, it proved incredibly challenging. I wanted so badly to be in a relationship that fit easily into the life I had in the past. I wanted my ex and my current partner to get along — and they did, until they didn't. I imagined weekly family dinners and vacations together. I had all these plans in my head for how all of our lives would go, not realizing we were all different people who all wanted different things. These days we maybe do family dinner once a month because there's always some sort of conflict that needs to be worked out between my ex and I. I didn't realize I'd have to continue to put in work in my past relationship in order to stay on good terms (because it's important to me) while also working hard on my current relationship. We're all in a relationship — my ex, my partner, me — even if it's not the one we signed up for. But every day we learn more and more how to establish boundaries with each other while continuing to show up for one another. My kids, thankfully, have adjusted seamlessly to a new parental figure in their lives. They accepted it because they've now got someone else to love them and support them. It's the adults that have to do all the work.
Noah is wonderful with my two kids. He eased into the role being a step-parent without any real issues. Our biggest struggle is discipline. I didn't always agree with how does it because it wasn't what my ex-husband and I practice. We try to avoid shouting by all means, but we've had seven years to learn patience and Noah's just been thrown into the mix. I often take for granted the fact that he hasn't had time to work on this, even though my ex and I have.
In a way I've had to learn how to parent all over again with Noah. I had to stay true to who I'd been to my kids so far (and to who I was) while simultaneously giving him the space to figure out who he'd be as a figure in their lives. I'm tired more often than not after a long week so I don't always follow through with my disciplining, and that's been frustrating for him to watch. And we still disagree on what and how to discipline my kids: I'm a lot more easy going while he's a bit more strict.
I've spent the last seven years of my life before Noah being "mom," and even longer as someone else's "wife." Dating in my late 20s was all-new territory for me. It was a balancing act, and much more of a marathon than I ever realized it'd be. Dating takes energy, and at the beginning, it wasn't necessarily energy I was ready to give. Following the birth of my two kids, parenting came so natural for me. When I think about it, it's really all I've done as an adult, and I say that as prideful and as proudly as I can. Dating just wasn't something I was good at, least of all in my late 20s. I had all these questions: Do you text people right away? How often should you see a person you're interested in? Do you play hard to get? I had absolutely no idea, but I like to think I learned quickly. (No; often; yes, but not too hard to get.)
I've tried to make sure that my children don't feel a difference in the time I spend with them now that I've included someone else in our lives. But I'm not just juggling the needs of my kids, I'm also carving out room for Noah to feel completely present and valued too. My children always come first, and thankfully, Noah has always been more than understanding when I cancel dates due to sickness or when I have to end a night together early because I have to pick up Riley or Beck from a sleepover.
Noah has always been steady; a smooth, sturdy rock keeping me balanced, but there have been nights when it's hard even for me to adjust to our new reality. I'll rock my kids to sleep and freak out that my ex, Leif, isn't here with us. On separate occasions, my kids have sobbed hysterically because they miss their dad. We've all had to make room in our hearts and in our homes for characters we didn't ever know we'd write.
My daughter notices how I am with Noah, and gets so excited talking about how much he loves me, and how she's so happy for me. I want her to see this. I want her to know that love exists even when its been lost.
My whole adulthood has been centered on raising my children and now I barely notice the time they take up in my life. To me, it's normal, so I forget that for Noah, rationing his time differently is something he's still adjusting to. I've gotten upset when he forgets that the kids need to be picked up at a certain time, or that we have to take them somewhere. He never responds in anger or resentment, he only vows to try harder. In turn, I forget about the parts of his life he's had to sacrifice in order to be with us. When I'm reminded, I feel guilty. I never wanted to be the reason someone changed their whole life around. I don't ever want him to feel trapped or stuck, and I know that life would've likely been easier for him if he found someone without children. Yet here we are.
My ex-husband and I still make most of the parenting decisions, and Noah has mentioned that he'd like to have some say in these discussions, especially since he's a large part of the children's lives now. While I always wanted him to feel that way, giving him that responsibility as a parent has been difficult for me. To be honest, it's a hard territory for me to share. Parenting with my ex-husband is something sacred to us, and us alone. It's something we built together. What if introducing someone else into the mix creates a house of cards just waiting to fall? I'm learning how to include Noah in simple decisions as a means to help us all include him in the larger ones. For Leif, it's harder. It's a work in progress for all of us.
I had so many ideas of what dating as a single parent would be like and how it would play out long before I ever started seriously dating. I didn't even think I'd find love again, let alone a partner who's entirely committed to me. My daughter notices how I am with Noah, and gets so excited talking about how much he loves me, and how she's so happy for me. I want her to see this. I want her to know that love exists even when its been lost. Because being loved in this way has been one of the most uplifting experiences of my life. I am seen and held in a place of awe and love after experiencing something as devastating as divorce. There's something so powerful about being loved again and getting another chance at loving a person. I'm slower to anger and quicker to love. I'm grateful for all that I have now because I know what it's like not to have it. I cherish even the very tiny moments and I remember to be thankful for the very big ones.