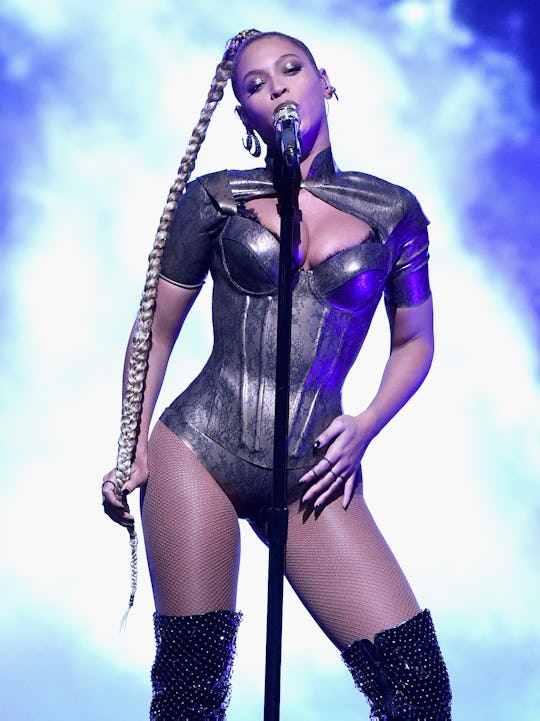 Theo Wargo/Getty Images Entertainment/Getty Images
Be Sure To Tune In For The 2017 Grammys
Award season is well underway and that means more than just TV and movie awards, because what would the world be without the right musical artists getting recognition for their work too? The 59th annual Grammy Awards will take place on Sunday, Feb. 12 at 8 p.m. ET, but if you're wondering what channel the 2017 Grammy Awards are on, you probably aren't the only one since that's the really important part. This year, CBS will be airing the Grammys live and, like most years, you won't want to miss the show as it happens.
Whether you have to camp out on your parents' couch to watch network TV or find someone else who doesn't strictly watch TV from streaming services, you'd do well to catch the Grammys in all its live and (sometimes) awkward glory. If you have access to CBS All Access, though, you can also stream it live that way, so there is hope if you can get your hands on an account. No one likes to be the person struggling to find YouTube highlights the next day while everyone on Facebook is talking about your favorite singer's political statement or your least fave's wardrobe malfunction.
Although it seems like forever ago that Beyonce's "Formation" and Adele's "25" came out, both singer powerhouses are up for several Grammys each and there have been confirmations about the now-pregnant Beyonce performing at the 2017 Grammy Awards. Can you handle this? I can't even with it right now.
In probably the best move ever for whoever is in charge of picking the host, James Cordon from The Late Late Show will be hosting the 2017 Grammys. He's the same late night talk show host who might as well host a celebrity music variety hour, with the rap battles and Carpool Karaoke he's gotten into. But think of everything the host will have in store for his time onstage and as he interacts with the many celebrities in attendance.
The 2017 Grammys are on CBS this year, which isn't surprising, since they always air on a network channel, and they'll also run for several hours, so there will be plenty of time for those amazingly live moments to happen before your eyes. Even if you're more of the Academy Awards or even MTV Movie Awards variety, there's something so festive about getting into the award season spirit that you can't just not watch one of them.