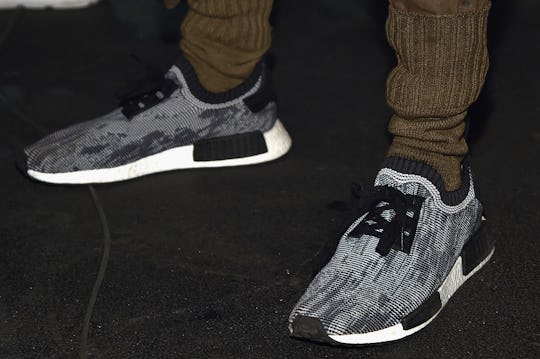 Dimitrios Kambouris/Getty Images Entertainment/Getty Images
What Color Do Baby Yeezy Boosts Come In? There Are Only Two Choices
In addition to lusting after a pair of Yeezy Boost 350s for yourself, now you can start saving your pennies for a pair of Yeezys just for baby. Adidas has released an infant version of the popular kicks. But you're going to need to save a lot of pennies. They run $130 bucks a pair. "Are they made out of gold?" might be your next question. No, unfortunately gold is not one of the color choices. S0 what color to Baby Yeezy's come in? They're exact replicas of the adult versions which come in two colors: pirate black and turtle dove. That's a whole lot of shoe for a little kid.
And now, they're sold out, meaning if you want a pair for your baby boo, you'll need to pay through the nose in the resale market. Reseller FightClub.com is asking $1,500 for a pair. Yikes.
Check out the high-drama Adidas description of a shoe made for people that mostly don't even walk yet.
"The Yeezy Boost 350 infant features a moccasin-type construction with a breatheable, flexible Adidas Primeknit upper for an enhanced fit," the product description reads. "A responsive all-rubber outsole offers superior traction, whicle premium suede overlay on the medial arch yields extra support. Adidas Boost's energy-returning properties ensure every step is charged with an endless supply of light, fast energy."
Because if there's one things kids need, it's more of an endless supply of energy and good arch support. Thanks Yeezy. LOL.
The world found out Baby Yeezy's were coming in May, when Kim first revealed plans for a release on Keeping Up With the Kardashians. The shoes are already adorning the feet of the most fashionable preschoolers like North West and Chrissy Teigen and John Legend's daughter Luna, who got a pair from Kim herself, according to Forbes.
Kourtney and Kim's kids obviously also have their own pairs already.
Here's a cute tweet featuring Riley Curry, daughter of NBA star Stephen Curry, seemingly waiting to hear back on a pair of Baby Yeezy's for herself. I have no doubt Riley won't have any trouble copping her own pair.
The baby Yeezys are already inspiring their own internet memes, which everyone knows is how you measure how important anything in pop culture really is.
The Adidas Yeezy Boosts are so popular, in fact, they sold out within two hours of being released.
But if you didn't get your pair of Boost 350s, Kanye was spotted wearing what Footwear News reported might just be the next biggest thing in the sneaker world, a pair of prototype Boost 550s.