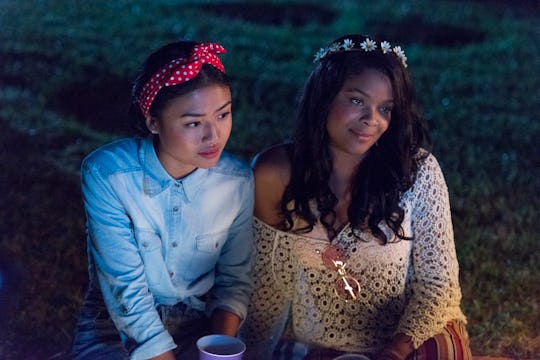 Rachael Thompson/Hulu
Hulu Will Air 'Light As A Feather' In A Different Way Than Usual
If you're already through your fourth re-watch of Hocus Pocus and Halloweentown and you're ready for something else spooky, get ready to watch Hulu's new horror series, Light as a Feather. And since you're going to be asking what day does Light as a Feather air, you'll be happy to know that you can marathon the entire first season in one day. If you're up for it, that is. Season 1 is 10 episodes and all of them drop on Hulu on Friday, Oct. 12. Just as a side note: I don't think Hocus Pocus or Halloweentown can be watched *too* much, but there's always room in the Halloween lineup for more spooky content, right?
This is a little different from Hulu's usual method of premiering a couple of episodes at once and then a new episode weekly on the same day, but when a show is released as direct to series, Hulu premieres all episodes at once. You're more than welcome to parcel out all 10 episodes of Light as a Feather, but who has self-control when to comes to good TV?
As the name probably suggests, the premise of Light as a Feather is that the classic party game goes wrong when all participants start dying off one by one. The participants being a group of high school girls, of course. It's less The Craft and more Final Destination Part 15, but judging by the trailer alone, Light as a Feather seems like it will be just scary enough to be the right kind of pre-Halloween show to watch all at once. And since all 10 episodes are on Hulu, you can definitely do that.
It's hard to say if Light as a Feather will get a second season, especially if the premise involves killing off the main characters one by one. But as there will likely be a "final girl" left standing, the series could progress in a similar way that the Scream franchise has. Or, each season could include a new cast of unwitting teenagers who don't know any better and never learn from the mistakes of their predecessors. Honestly, both scenarios are believably in the horror genre, so it could happen. Right now, the show isn't being marketed as a limited series, so the idea could be for there to be more seasons in future.
Light as a Feather creator R. Lee Fleming Jr. spoke to IGN about the inspiration for the show and how the series might shift slightly away from the story it's inspired by. It's based on a Wattpad story by Zoe Aarsen and in the story, the game is played a little differently, with a leader of the game who predicts how the levitated person will die.
It's all a lot more sinister than the version of Light as a Feather, Stiff as a Board than you might have played as a kid, but it amps up the spooky factor a lot, which is kind of the point. "In turning [a story] into a TV series sometimes you have to add elements, and obviously it's a book, so the series goes on beyond the book," Fleming told IGN. "So we do deviate, but the spirit of the book is definitely there."
I'm not sure if I could handle watching 10 episodes of a horror TV show in succession since I may or may not get spooked while watching American Horror Story every week. But it's definitely a good alternative to the same old Halloween movies that most of us stream literally every October.