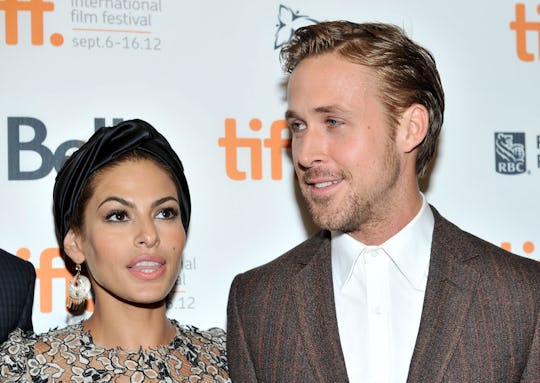 Sonia Recchia/Getty Images Entertainment/Getty Images
What Did Eva Mendes & Ryan Gosling Name Their Baby? She's A Huge Surprise
Everyone, take a deep breath. One of Hollywood's most attractive couples just announced another baby and she is going to blow everyone away, if only because she is already the stealthiest celeb to shy away from the paparazzi (and in diapers no less). On Monday afternoon, TMZ reported that Eva Mendes and Ryan Gosling named their daughter Amada Lee Gosling, after reportedly obtaining a copy of her birth certificate from an unnamed source. Amada will be a little sister to Gosling and Mendes' other daughter, just 20 months old, Esmeralda Amada.
Earlier this month, Us Weekly reported spotting Mendes' baby bump but the star was obviously staying very, very quiet about any big baby news. In fact, the couple hasn't even shared a photo of Esmeralda with the public yet. Despite their best efforts, news of Amada's birth three weeks ago blew up the Internet on Monday as soon as TMZ reported the birth.
In an October interview with The Violet Files, Mendes talked about keeping her daughter's life as private as possible, even if her parents weren't. "Whether we like it or not, privacy is going to be very difficult for Esmeralda. I think it's unfair but that's our reality," she said. "So Ryan and I decided early on to give her as much privacy as we could. And my pregnancy was the first opportunity to give her that." But keeping a new baby in Hollywood secret is a hard mission. Kudos to the couple for accomplishing it as best they could. Amada enjoyed even more privacy as news of Mendes' second pregnancy was pretty much under wraps until she was almost due.
Mendes continued in that interview that she found the whole "bump watch" in tabloid media intrusive and would strive to protect her children from that. Gosling and Mendes definitely managed to do their best when it came to protecting both bumps and babies from the needling media this time around. And who needs the media when family alone can be too much to handle?
In an interview during her first pregnancy, the actress said that her Cuban American family was pretty much culturally obliged to take over her household. She said on The Wendy Williams Show, "It's like a takeover. The Cubans are coming. It's amazing. They take the baby, there's food, the dishes are done. It's a beautiful takeover."
When you have that many opinions in your own kitchen as a new mom, having to deal with press and covering up another baby bump every time you want to go to the grocery store has to be tough. It's probably a good thing for their kids (and their own sanity) that Gosling and Mendes kept the good news about baby number two under wraps. But is it still OK to say congratulations? Even with a "hey girl" meme to welcome the one into this crazy world?