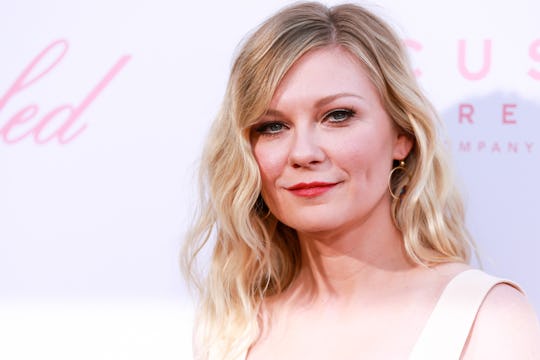 Rich Fury/Getty Images Entertainment/Getty Images
Kirsten Dunst's Son's Name Is Timeless & Surprising
Fans of Kirsten Dunst were thrilled to learn that she had given birth to her first baby with fiancé Jesse Plemons earlier this week. Although the actress is usually very private when it comes to her personal life, a new report in The Blast revealed Kirsten Dunst's baby's name after obtaining a copy of the boy's birth certificate. The name is as unique as you'd expect it to be, even if the circumstances surrounding its reveal might not have been what Dunst and Plemons planned.
According to the birth certificate obtained by The Blast, the two happy parents named their son Ennis, and his full name is Ennis Howard Plemons. He was reportedly born on May 3 at the Providence Saint John's Health Center in Santa Monica, California. Romper reported on May 8 that the couple had welcomed their son, so it sounds like they had a few days to keep the good news just to themselves.
Ennis is a traditionally Irish name for a boy, although it's also often used for girls, too, with the same spelling, according to Think Baby Names. It technically means "island, as there's a town named Ennis, built on an island, in County Clare. It's a variant of the name Eneas or the Scottish Gaelic name Angus (or Angie, for a more traditionally female name). So, there are a lot of ways to use the name if you like what Dunst and Plemons are going for, especially if you have Irish origins. It's kind of an old fashioned name, but still sounds very "of the moment."
It's not clear why they chose the name, though it's possible that it's not just about having a little Irish in either of their families. The couple met on Season 2 of the show Fargo, according to E! News. There's a character named Ennis on the show, too, so it could be a sentimental nod to the beginnings of their relationship. Or, like so many parents naming their children, they just like the way it sounds. Either way, it's a great name for the newest addition to their family.
Dunst announced her pregnancy back in January after posing for a Rodarte photoshoot. The Los Angeles based fashion brand, founded by two sisters, Kate and Laura Mulleavy, created a look book with women that "inspired" them, according to an E! News report at the time.
Not only did it include a gorgeous picture of Dunst with a baby bump, it also included Reese Witherspoon's daughter Ava, The Walking Dead 's Danai Gurira, and Thor: Ragnarok's Tessa Thompson, among other celebs, such as Kim Gordon and Gia Coppola, and Chloe X Halle. So technically, little Ennis has already made his first public appearance and hunt out with some of the coolest women around. I'm a little jealous of Ennis, to be honest.
Dunst and Plemons must be totally over the moon with the arrival of their son. They've had the baby bug since they met, according to an interview Dunst did with Marie Claire UK back in 2017. She told the outlet, "'I'm at a stage in my life where I'm like, I've been working since I was 3. It's time to have babies and chill. You know what I mean?" Dunst added:
I wasn't one of those 'I need a baby!' people until my goddaughter was born. I love her so much. That love is just like… you can't experience that unless you have a kid.
Dunst, 35, and Plemons, 29, confirmed their engagement back in January 2017 and are still planning their wedding. According to Us Weekly, Dunst said during an appearance on Live With Kelly and Ryan that she surprised herself with how much she was enjoying wedding planning, just like she surprised herself with how much she wanted a baby after meeting her goddaughter. Dunst said of wedding planning last year, "It's good. It's so fun. I never thought I would be that person who had a Pinterest board. And because we created it together from the beginning it's a really nice thing to do together. It's going to be so personal and fun. We are having a good time."
With the arrival of baby Ennis, wedding planning could potentially be put on hold. But it sounds like Plemons and Dunst are just fine with "having babies and chilling" for now. You can't really ask for more than that.