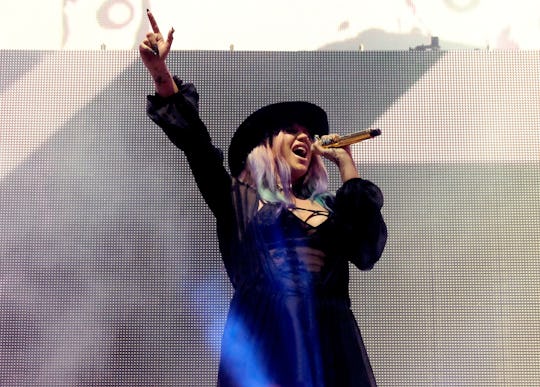 Frazer Harrison/Getty Images Entertainment/Getty Images
What Do Kesha's 'True Colors' Lyrics Mean? One Line Says It All
After years of waiting for a new Kesha track, it's finally arrived. At Coachella on April 16, the singer performed alongside producer Zedd and covered his 2015 song, "True Colors." This is the first time Kesha's been allowed to produce a song without Lukasz "Dr. Luke" Gottwald, whom she's accused of emotionally, physically, and sexually abusing her for over a decade. (Dr. Luke maintains that he did not assault Kesha and that she is making everything up.) Now that the landmark song has arrived, fans are wonder what Kesha's "True Colors" lyrics mean, and the answer is a little complicated.
Kesha is still under contract with Sony, as well as Gottwald's imprint, Kemosabe Records. Since she understandably refused to work with Gottwald, Kesha's career has been in limbo since 2013. She was contractually forbidden from working with another producer until a court ruling this past February, when a judge declined to void her contract with Sony, but ruled that she could record with another producer under Sony's label. Now, according to a tweet from Zedd, Kemosabe and RCA permitted the two to record together even though Zedd doesn't work for Sony.
While Kesha didn't write this song herself, she clearly chose it for a reason, and she changed a few key words that make a very big difference, once you know her back story.
When Zedd released "True Colors" in 2015, the accepted theory was that it was about a singer coming into his own in the music industry. Lyrics like "Stars fall at my feet, keep me grounded as I reach/Higher than I see, is there something there for me?" and "No I won't apologize for the fire in my eyes/Let me show you my, my true colors, it ain't no rainbow" seemed fairly innocuous. But with Kesha's alleged abuse and legal battles in mind, it's clear why she chose to sing "A promise with a lie is broken by design/And what I thought I knew has been swallowed by the truth/It's time to light the flame, right before it rains/I'm not afraid, I'm not."
Here's the most telling part: while the original bridge included the line "We've escaped our capture/Yet we have our masters," Kesha's version switches it to "I've escaped my capture and I have no master." Sure, nobody can really know what an artist's true intentions are without being explicitly told (I mean, we still don't know for sure whether Beyoncé's Lemonade is about Jay Z or her dad, or just a work of fiction). But if Kesha gave an interview tomorrow unequivocally stating that Gottwald is the "master" in question, I wouldn't bat an eye.
This new song is great news not only for fans of Kesha's music, but anyone who's been frustrated by the powerlessness that sexual assault victims often suffer. Kesha has spent years feeling trapped and fearing that her career was circling the drain, and now she's come back full force. Not only has she finally released new music ("True Colors" is now available on iTunes), but she's continuing to speak up for herself in a profound and courageous way. She's not backing down, and I believe she'll win in the end.