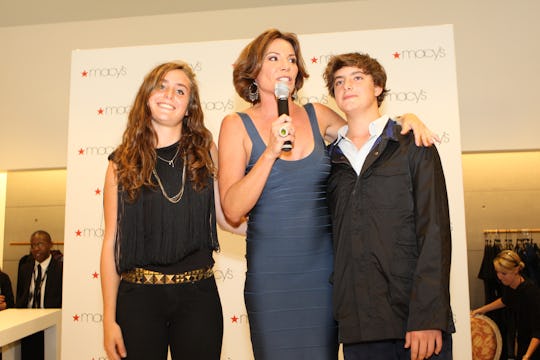 Trisha Leeper/Getty Images Entertainment/Getty Images
What Do Luann De Lesseps' Kids Think Of Her Fiancé? They're Supportive Of Their Mom
The standard operating procedure for a Real Housewives divorce is typically that the kids — especially if they're teenagers — duck out of the spotlight for a season or two while the heat off the scandal of it all cools down. We saw it happen with Avery when Ramona and Mario were splitting up, and Victoria and Noel de Lesseps were no exception. So what do Luann de Lesseps' kids think of her fiancé, Tom D'Agostino?
When Luann divorced their father, Count Alexandre de Lesseps, Victoria and Noel weren't featured on the show very much, likely in an effort to escape being associated with the more unsavory details like reports of the Count's extra-marital affairs. While Victoria and Noel did begin participating in the show again once Luann was in a stable relationship with French haircut twin Jacques, we've only caught a glimpse or two of a very stylish Victoria on Season 8, during which Luann has been enjoying a whirlwind courtship with entrepreneur and life-long bachelor Tom D'Agostino. Most likely, the kids, now adults, are off doing their own thing (each pretty artsy) and it's like, so embarrassing to be on your mom's reality show. (Just kidding.) Actually, they might not be embarrassed, since Luann reported in it was nice to hear Luann report at last May's NBCUniversal upfronts that the de Lesseps kids approve of Tom.
"They love him. Yeah, they do. They're really happy for me," Luann told The Daily Dish. "When mommy's happy, everybody's happy."
And it's a relief that they embrace him, too, especially since Luann and Tom got engaged after only six weeks of dating seriously. They're due to be married in Palm Beach, Florida on New Year's Eve this year, and reports indicate that the nuptials will be featured on Real Housewives of New York. We already know that Dorinda Medley will be one of Luann's bridesmaids, as the person responsible for introducing Luann and Tom, and maybe Victoria will be the maid of honor, though that has yet to be confirmed. Since Luann and The Count eloped, she revealed that she's eager to throw a huge blowout this time around, and is already planning a three-day wedding weekend around the event. How chic!