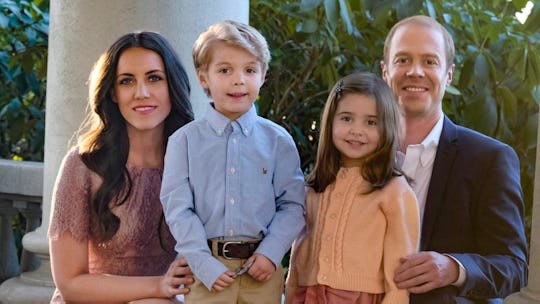 Lifetime
'A Royal Romance' Isn't The First Time Prince William & Kate Middleton Have Been Portrayed On TV
Lifetime movies aren't exactly controversial, but since they are often based on real events and real people, you have to wonder what those people think about how they're portrayed on television — especially when it comes to the royal family. With Prince Harry and Meghan Markle's Lifetime movie coming up, what I really want to know is what Kate Middleton and Prince William think of A Royal Romance, especially since they have such large roles in the project. Upon Romper reaching out, Kensington Palace declined to comment on the upcoming Lifetime movie.
The Duke and Duchess of Cambridge are played by Burgess Abernethy and Laura Mitchell, respectively, and they are pretty close doppelgängers to their real-life counterparts. Before they were married in real life, Prince William and Middleton also had a handful of television movies made about their romance, so this isn't the first time they've seen themselves caricatured on the small screen. In Prince Harry and Markle's Lifetime movie, Middleton is used as a foil of sorts to their relationship. She advises Harry that his bae is American, divorced, and then asks, "are you ready for this?"
Later in the movie, Middleton and Prince William are seen dining with the couple, making public appearances together, and everything else. So she and Markle seem to get along in the movie, as they reportedly do IRL as well. Then again, who knows? If anything, the royal duo may have some issues with how accurately they are portrayed throughout the special.
It can't be easy to see some of the most private conversations with your family reimagined on television. For what it's worth, the writers and crew did try to make everything as accurate as could be. The writers put the script together in just a handful of weeks, having created a timeline of the couple's relationship and then working from press appearances and things everyone's said in interviews about the second royal couple.
Co-screenwriter Scarlett Lacey sad in an interview with Elle, "We tried to be really truthful. We used our imaginations in places, but there was so much available, from Meghan's own words [via her interviews and blog]...There were so many things we knew to be true, if not in words, then in spirit."
Costume designer Claudia Da Ponte told Fashionista that she and her team did the same thing with the wardrobe. "We were able to piece together a timeline of roughly what she wore and then, basically, we used brands she actually wears in real life and we just tried to match everything to reality as much as we could," she explained. She did the very same for Kate Middleton and Prince William's outfits, too. She added in the same interview that she employed the same type of techniques:
Harry and William kind of wear very similar things repeatedly. So I'd say the boys are easier to dress on this than the girls. Prince William has been living in the same blue suit for a long time.
For Middleton, she referenced websites like What Kate Wore and press images, especially because she was more visible than Markle at the beginning of her relationship with Prince Harry. Da Ponte added:
I'd have, say, five reference photos of what she wore in a week, and then I'd be like, 'OK let's do something similar to this because our date falls roughly in that timeframe.
So, if Kate and Prince William aren't huge fans of the movie or don't like how their family is portrayed on American television, they can at least rest assured that their clothes will probably be very on-point and accurate. And maybe that's all that matters as far as they're concerned anyway.